USA to face Angola and China in first round in London; Australia to face Brazil, Great Britain and Russia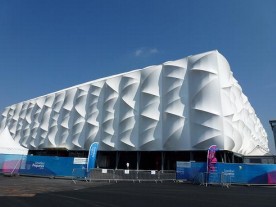 With five teams yet to qualify for the London Games, FIBA announced the draw for the Olympic basketball competition on Monday. Angola, Australia, Brazil, China, Great Britain, Russia and the USA have already qualified.
The last five teams to join the competition must earn their bid at the FIBA Olympic Qualifying Tournament (OQT) for Women in Ankara, Turkey in late June and early July. The OQT teams are: Argentina, Canada, Croatia, Czech Republic, France, Japan, Korea, Mali, Mozambique, New Zealand, Puerto Rico and Turkey.
The draw
Group A: Angola, China, USA, OQT 1, OQT 2, OQT 4
Group B: Australia, Brazil, Great Britain, Russia, OQT 3, OQT 5
The preliminary round games and quarterfinals of the women's Olympic tournament will be played in the Olympic Basketball Arena with the semifinals and finals then played in the North Greenwich Arena.