Championship postgame Q&A: Notre Dame's Skylar Diggins and Devereaux Peters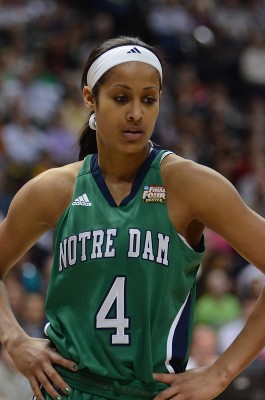 Skylar Diggins
How was this game different than last year's final?
"We lost by 20. We were the underdogs and weren't expected to win it all. I think we were expected to win last year."
How has your game changed since you've played at Notre Dame?
"I've become more mature. When I first came to college I didn't think I was going to be a one. I feel like I've grown into my role and embraced it. I had been a combo (guard) but had mostly been a two."
Why did McGraw put you at the one?
"She wanted the ball in my hands. She trusts me. As a freshman, she trusted me. It's understanding the offense better, understanding her, understanding the players that are around me, so I know what plays to call for who. I don't think I did a very good job of that tonight."
What are some things we don't know about Coach McGraw?
"She's amazing with numbers and Xs and Os. I feel like her basketball IQ is one of the best out there."
"She is more than just a coach to us. I think a lot of people don't understand that relationship we have with her. We go in there every day and talk to her. She cares so much about us – as people, as women – developing us more than just a basketball player. She's a mom also. She understands what we have to go through. She's so selfless. It's never about her. That's what makes her a great coach. She puts herself in the background and puts us in the front."
Devereaux Peters
How did your early foul trouble effect the outcome of the game?
"I was out at 17 minutes. I'm the second-tallest on the team, and it's kind of big for us if we're playing a 6-foot-8 center."
"We weren't allowed to play as physical as we normally do throughout the tournament but there's not much you can do about that. "
So you had a game plan for Brittney?
"Yeah we did, and it was working early on. We came out tough and we just got out of rhythm, missed box outs and let them get easy baskets. The calls weren't going our way, and we were less aggressive…and I think that affected our game in a big way."
Why was Coach McGraw crying just now?
"She wants her players to win  and she feels like every loss is her fault. That's how everybody is on our team – we take a lot of personal responsibility."
How was this year different than last year?
"We've grown as a team. We're really close and we love each other to death and it was a great year for us. It's just frustrating to get this far and lose again."