President Obama honors Pat Summitt with the Medal of Freedom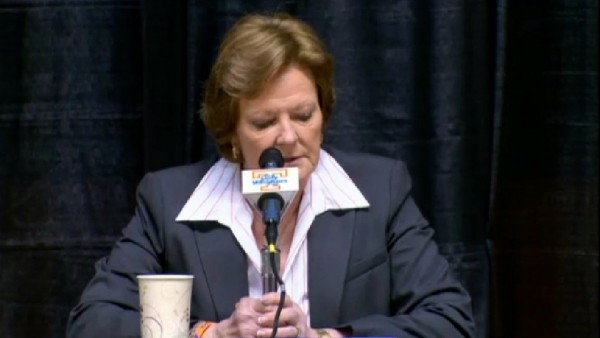 A day after announcing her retirement from the head coach position at Tennessee, legendary coach Pat Summitt received the nation's highest honor for a civilian. President Barack Obama awarded her the Presidential Medal of Freedom.
"Coach Summitt is an inspiration – both as the all-time winningest NCAA coach," said Obama, "and as someone who is willing to speak so openly and courageously about her battle with Alzheimer's. Pat's gift has always been her ability to push those around her to new heights, and over the last 38 years, her unique approach has resulted in both unparalleled success on the court and unrivaled loyalty from those who know her and those whose lives she has touched. Pat's coaching career may be over, but I'm confident that her work is far from finished. I look forward to awarding her this honor."
The award is "presented to individuals who have made especially meritorious contributions to the security or national interests of the United States, to world peace, or to cultural or other significant public or private endeavors" according to the White House.
Coach Summitt was notified last week of the President's decision to award her with the medal for her contributions both on and off the court.  The remainder of the honorees selected by the President will be announced over the coming weeks and the awards will be presented at a White House ceremony later this year.