Los Angeles Sparks working on defense as roster shapes up, Ross makes cuts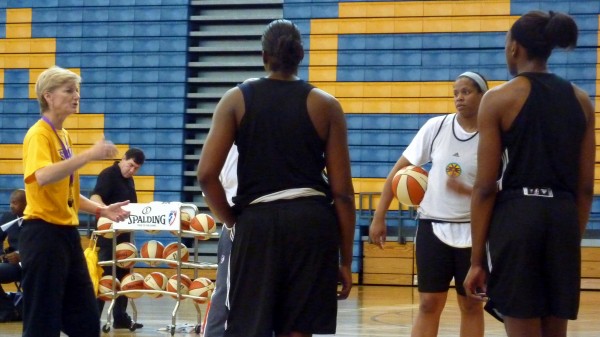 LOS ANGELES – Just in time for their second exhibition game against the Japan National Team, all prospective Los Angeles Sparks were in training camp Wednesday night for a tough session.
The remaining players who were overseas this winter arrived in town and went directly to practice. They included Candace Parker, Jantel Lavender, Sharneé Zoll, Ashley Shields and Alana Beard.
The Sparks made two cuts after Saturday's exhibition game against the China National Team – Tyra White and Rashidat Junaid. The training camp roster now stands at 14.
Players scrimmaged during the last portion of practice, taking turns playing hard defense on each other. Carol Ross said she and assistant coaches Sandy Brondello and Jim Lewis have been emphasizing defense the last week and a half.
"This team is known for having an offensive swagger, but no defensive toughness," she said. "We're trying to put an emphasis on toughness, being great communicators, fighting to the finish, and expecting great defensive plays."
The competition was fierce because there are still three more roster cuts to be made before the season opener May 18, and there are a plethora of both guards and forwards in camp. Ross said she wishes she did not have to make cuts.
"Every player in this camp is WNBA-worthy," she said. "It's a matter of arithmetic in making these cuts."
Ross said cuts will depend on how camp evolves over the next week.
"We're still finding our identity, and learning what our personality is, and every day we get closer to finding out what that is," she said. "Once we figure that out, we'll know what we need to plug in."
Those already in camp include forwards DeLisha Milton-Jones, Ebony Hoffman, Nneka Ogwumike, and Nicky Anosike, who sometimes plays center. Guard-forwards are Marissa Coleman and April Sykes. Guards include Kristi Toliver, Darxia Morris and Khadijah Rushdan.
The Sparks play Japan Thursday at 10:30 p.m. ET/7:30 p.m. PT at Southwest College in Los Angeles.