Weekend of losses gives New York Liberty more questions than answers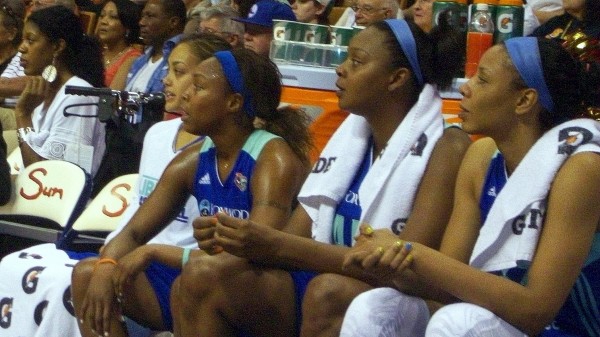 The New York Liberty hoped a return to Madison Square Garden for their season opener would launch them to a pair of victories over division rival Connecticut. Instead the Liberty dropped a pair of games to the Sun, 78-73 at home on Saturday, and a more disappointing 92-77 game on the road on Sunday.

Kara Braxton


Plenette Pierson
While New York entered the fourth quarter on Saturday with a seven-point lead only to lose by five, on Sunday a nine-point lead after one quarter was quickly erased by the Sun, who outscored the Liberty 29-16 in the second quarter.
Depth seemed to be one of the Liberty's strong points, with nine players capable of earning strong minutes. But, at least for the first weekend, the team lacked chemistry on the court. Only Cappie Pondexter, the do-everything All-Star guard averaged thirty minutes per game, and it appeared that coach John Whisenant was struggling to come up with combinations that succeeded.
Playing two games in two days to start the season is extremely difficult, but the Sun seemed to adapt much better than the Liberty.
While Whisenant clearly was making sure he did not overuse any particular player on Sunday, an early concern has to be the fact that veteran players brought in this season, such as DeMya Walker and Kelly Miller, seemed to take away minutes at crucial times from the younger players that helped put the team in the playoffs last season. Kia Vaughn, last season's Most Improved Player, only averaged 16 minutes this weekend (Walker played 15 minutes per game) and Leilani Mitchell 23 minutes (Miller played 16 minutes). Similarly, when Nicole Powell was struggling (two-for-eight shooting in each game), Essence Carson, who has played very well against Connecticut in the past, only saw twenty minutes of time.
Plenette Pierson was extremely effective, putting in sixteen on seven-for-nine shooting, operating both down low and also from the high post with sweeping drives down the lane. Kara Braxton had a great first half, hitting all three of her shots, but was only two-for-seven in the second half.
After the Sun dominated the second quarter, mostly from the foul line, to take the lead, the Liberty came out to start the second half determined to go inside, as Braxton, Vaughn, and Walker took nine of the team's sixteen shots. Unfortunately, this meant Pondexter and Pierson, the two best scoring options only had one shot each, and any chance to turn around the game vanished with their lack of attempts.
Any Whisenant team is going to take pride in their defense, and the Liberty held Connecticut to 42 percent shooting on Sunday, after holding them to 40 percent on Saturday.
However the offensive end, notably the rotations and the shot attempts, needs improvement in order for the team to survive this very difficult stretch of games they have upcoming, with Minnesota, Indiana and Atlanta looming.
It will be interesting to see how this plays out for Liberty fans.