Weekend sweep gives Connecticut Sun reason for optimism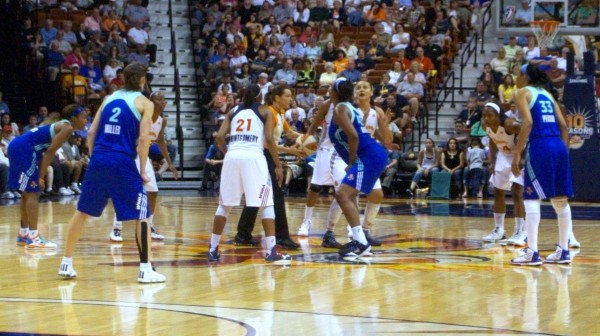 If those that made the Connecticut Sun a preseason divisional favorite were looking for reassurance, the team gave them plenty of reasons to be upbeat after an opening weekend home-and-home sweep of their division rival the New York Liberty.
After opening the season on Saturday with a 78-73 come-from-behind road win at Madison Square Garden, the Sun returned to Mohegan Sun Arena for their home opener. Led by Olympians Tina Charles and Asjha Jones, the Sun again came from behind, this time pulling away for a 92-77 victory.
It was an oddly paced game. After 23 first-half foul calls, the third quarter had a total of five. The Sun shot 26 first-half foul shots, making 23. The Liberty only shot eight, making five.
Charles, who missed the preseason with a lower abdominal strain, followed Saturday's double-double of 19 points and 13 rebounds with a more impressive game on Sunday, leading both teams with 25 points and 11 rebounds. Jones struggled on Saturday, but hit the game-winning shot. On Sunday she was a force, especially in the first half, when the Sun only shot 30 percent from the floor. Jones hit four of their 10 made shots en route to a 20-point, eight-rebound game.
"They are Olympic players for a reason," said Sun coach Mike Thibault. "They score, rebound and defend. That's a pretty good trifecta to have when you're a 'go to' player."
After two games, it has become clear that the Sun will be more than just their two big guns though. "We got a lot of great performances from a lot of people," said Thibault.
The point guard combination of Kara Lawson and Renee Montgomery have each been effective with the ball, and have only turned it over three times between them over two games.
However the biggest difference this year may be the confidence and performance of the other rotation players. On Saturday it was Allison Hightower who contributed thirteen points; on Sunday it was Danielle McCray who had ten points, and led a key third quarter 7-0 run with two foul shots, a three-pointer and a beautiful assist on a Charles layup. It may not be the same player each game, but they are making the playing time decisions tough for Thibault.
"It's going to be interesting," a smiling Thibault commented, "especially when we add Tan [White] back into the mix to figure out who plays what and when. That's a good problem to have."
Two problems that plagued the Sun last season were closing out games and winning on the road, so opening the season fast, especially with a road win, was something very important to Thibault.
"It's huge. I told our team yesterday [Saturday] road wins are gold in this league, they are hard to come by, hard to get. Then I said we're going to find out what you're made of the next day [Sunday], because it's like a little playoff series. You make a couple of adjustments; you cannot come out flat, which we came out a little bit flat. Can you sustain the effort from the day before? And we did."