Peters continues to torment state of Connecticut as Lynx hold off Sun 87-85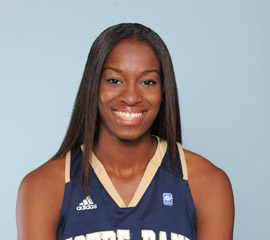 Her Big East days playing for Notre Dame may be over, but Minnesota Lynx rookie Devereaux Peters still has the ability to torment anything that wears a "Connecticut" uniform. In her WNBA debut, the first-round draft pick of the Lynx certainly made an impression, scoring nine points with seven rebounds plus three important shot blocks as Minnesota defeated the Connecticut Sun 87-85 in a spirited pre-season game.
"[Blocking shots] was probably the most exciting part for me," said Peters, "but that's something I can do consistently, so it's exciting to be able to be able to transfer that over from college into this game. My teammates were cheering me on so that's even more exciting, and we got the win."
Both teams gave a strong effort last night, making it very difficult for both Lynx coach Cheryl Reeve and Sun coach Mike Thibault to decide who will be there when the final rosters are announced next Thursday.
"All in all for a preseason game I thought it had a pretty good edge to it," Thibault commented. "It had a lot of good players, you've got five Olympians between the two teams [although Sun Olympian Tina Charles did not play], you've got players that know each other; they wanted to compete with each other tonight. Sometimes you don't get that in a preseason game."
Thibault had to be particularly pleased with the performances of guard Kara Lawson and forward/center Mistie Mims. Lawson built upon her strong performance from earlier in the week against the New York Liberty, leading both teams with nineteen points on six of nine shooting (three of four from three point land) in only 22 minutes of play. Mims, starting in place of the injured Charles, held her own against the strong Lynx frontcourt, contributing twelve points and six rebounds, along with four assists from the post. Post-game Thibault commented that he was pleased with Mims' performance, but she "had no cause to help, she has a guaranteed contract, she is on the team."
The transformation to an all out running team continued for the Sun, especially with Charles and veteran guard Tan White sitting out the game.
"They are an explosive team, so we wanted to make sure we came out aggressive, came out on the attack," said Lawson. "Tempo is really important for us on the offensive end, especially not having Tina on the inside we're smaller compared to that group [the Lynx frontcourt]. We felt like pace would give us more quality looks in the first half so that was kind of the plan."
Thibault agreed, but did not lose sight of the fact he was missing two pieces of his rotation.
"I like the fact we can add two pretty good players when we play in the regular season in Tina and Tan. There were a lot of good things. There are some things we need to clean up and get better, but we have got a week to get better at some of them."
Other strong performances for the Sun included veteran Asjha Jones (eight points on six for eight shooting), Allison Hightower, who played both guard positions without a turnover and defended well, and Kelsey Griffin (nine rebounds and four steals). Point guard Renee Montgomery struggled with her shot a bit (three of nine) but led the team with six assists. Newcomers Sidney Spencer and Chay Shegog had both highs and lows, and Thibault will not have it easy selecting an eleven-player roster.
The defending champion Lynx have one of the deepest teams in recent memory. They come at their opponent in waves, with their reserves being so strong they could start for many teams. Point guard Lindsay Whalen played under fifteen minutes as Reeve looked at backups Erin Thorn and Candice Wiggins at the point, but came away happy with the team's performance.
"It was good. I thought we really did some things, got the win. I thought it was a good effort, everyone played hard when they were out there, and now we have lots to work on that's for sure, and we'll be ready."
With Charles missing for Connecticut, the Lynx post combination of Rebekkah Brunson and Taj McWilliams-Franklin came out strong, and combined for nineteen points and ten rebounds for the game. Neither played twenty minutes; in fact no one on the Lynx roster played twenty minutes as Reeve took a good look at everyone on their roster.
It was a balanced performance for Minnesota, with nine of their fourteen players scoring at least five points, no one scoring more than twelve (Seimone Augustus), and only two players scoring in double figures (Augustus and Brunson). They won the battle of the boards 35-31, perhaps the biggest surprise being the rebounding of rookie Julie Wojta, who tied with Peters for team-high with seven.
Wojta played well in her fifteen minutes, scoring five points and adding an assist and steal, along with those rebounds. The only flaw she showed was missing four consecutive free throws that could have iced the game down the stretch. But for a rookie in her first game, that can be somewhat overlooked.
The rest of the Lynx gave Reeve exactly what she would expect from them. Augustus was the dynamic scorer, Maya Moore contributed a little bit of everything. Wiggins, Monica Wright, Thorn and Jessica Adair contributed minutes off the bench along with the rookies. The one downside, however, was the loss of Amber Harris to a potentially serious ankle injury. Considering the pain she was in when she went down, she could be out for quite a while.
Also impressive was the leadership, encouragement, and tutoring going on at the Lynx's bench. Reeve has veteran players in McWilliams-Franklin, Brunson, Whalen and Augustus that not only are active in talking to and instructing the younger players, but relish the role and responsibility.
Whalen joked about being a veteran leader now.
"I know, it's crazy, it just kind of happened, you know? But we try to help out the younger players and being a vocal leader, that's one of the jobs on the team that I'm supposed to do, so I enjoy it."
When Harris went down, it was McWilliams-Franklin, Brunson and Augustus that were all on the court beside her, helping her through the initial pain and shock of the injury.
"We're a family. It doesn't necessarily have anything to do with leadership, we really care about each other," said Brunson. "So when somebody goes down we want to be there and support them, let them know it's okay, we're here."
The final score was not nearly as important as what both teams were able to do and accomplish, but the Lynx and the Sun left little doubt the two teams will be contenders in their respective conferences.
There were areas that need to be addressed still on both teams, but the overall talent on both was evident.
As for Peters, does she get some fiendish pleasure out of tormenting all things Connecticut?
"I wouldn't say that," she laughed, "I just want to torment any player I'm against, no specifics."
It sounds like she is already a veteran.