Sparks beat Japan, Ogwumike leads again in Sparks preseason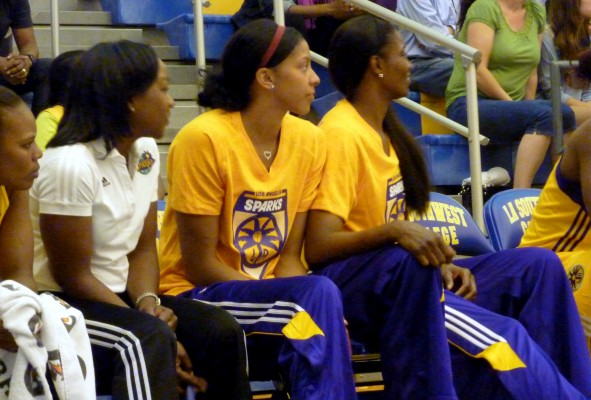 Los Angeles – The Sparks overcame a slow first half Thursday to rout the visiting Japan National Team, 95-77.
Rookie Nnemkadi Ogwumike had 17 points for the Sparks – the second consecutive game she has lead the team in scoring. Kristi Toliver put up 15 points and April Sykes, 13. Yuka Mamiya had 21 points for the Japan Team, and Kumilo Oba added 16.
"Our team effort was good, there is obviously a lot we can work on – we're all getting used to each other," said Ogwumike. "We're playing as hard as we can, a little too hard at times with the fouls but I think our mistakes were aggressive mistakes."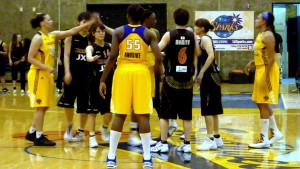 Japan got off to a quick start, fueled by their adept three-point shooting, including 4-of-7 from Oba for the game. The lead changed seven times, and the score was tied six, en route to a 39-36 Sparks lead at the half.
Toliver ignited the Sparks' surge in the third, scoring 10 of her points, and the Sparks led 71-56 at the end of the period. Ashley Shields had 10 points for the Sparks in the fourth quarter.
The Sparks outshot Japan 53 to 47 percent, but Japan had the high percentage three-point shots, at 38 percent. The two teams were even in rebounds and assists, but Los Angeles had 14 steals to Japan's three, and the visitors committed 22 turnovers to the Sparks' 11.
"In the second half we made some adjustments defensively with strategy and also with personnel," said Sparks coach Carol Ross. "We're looking to bring a little personality on the defensive end and do things that championship caliber teams do."
Ross said Ogwumike, who added nine of her points in the second quarter, was a key in the win.
"Nneka is playing with a lot of energy and really uses her athleticism. She brings a real spark to the team."
The game was the final pre-season matchup for the Sparks, who open up regular season play Friday, in Seattle. Their first home game is Sunday, May 20.