WNBA Opening Weekend Recap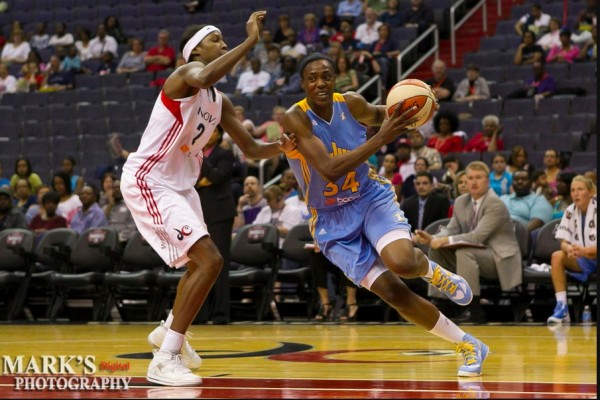 Friday, May 18
Los Angeles 72, Seattle 66 Recap
The Los Angeles Sparks won the first game of the 2012 WNBA regular season defeating the Seattle Storm 72-66 in front of a crowd of 9,686 fans at KeyArena Friday night. Kristi `Toliver led all scorers with 25 points, 10 of them in the fourth quarter. She also had six assists. Candace Parker scored 11 points and pulled down four rebounds.
For Seattle, Ann Wauters led with 17 points and seven rebounds. Sue Bird finished with 15 points, six rebounds and six assists. Former Sparks forward Tina Thompson, in her first year in Seattle, had 12 points and 8 rebounds.
Saturday, May 19
Connecticut 78, New York 73 Recap
New York lost at home in their season opener in the last 31 seconds when the Connecticut Sun's Asjha Jones made a tiebreaking shot. Tina Charles led the Sun with a double-double, 19 points and 13 rebounds. Allison Hightower added 13 points. Jones finished with 12 points. Renee Montgomery scored 11.
Cappie Pondexter led the Liberty with 19 points. Plenette Pierson finished with 15 points and 10 rebounds. Kara Braxton added 13.
Chicago 69, Washington 57 Recap
With 23 points and 12 rebounds, Sylvia Fowles anchored Chicago's 69-57 road win Saturday against Washington in the regular season opener for both teams. Last season Chicago swept the series vs. Washington, winning all four games the teams played against each other.
"Anytime you can get a win on the road that's nice," said Sky head coach Pokey Chatman.
Indiana 92, Atlanta 84 Recap
The Indiana Fever started off the season with a home win for the second year in a row. With 21 points, Katie Douglas led her team over East foe Atlanta Dream Saturday night. Teammate Tamika Catchings was also in double figures with 16 points. Jessica Davenport had a double-double with 12 points and 10 rebounds.
"I love to start the season with a win over Atlanta," said Fever coach Lin Dunn. "We got good help from the bench. We started very well. Atlanta did not seem as intense to start the game. We did not respond to their intensity in the third quarter. We got good help from everyone who played. We gave up too many offensive rebounds in the second half."
Angel McCoughtry had 26 points for Atlanta and Sancho Lyttle scored 18 points plus 10 rebounds. Lindsey Harding finished with 16 points.
"It was our first game. We came out sluggish," said Lyttle. "We need to come out better."
San Antonio 88, Tulsa 79 Recap
The San Antonio Silver Stars relied on their veterans to propel them past a feisty and young Tulsa Shock squad. Looking much better than previous seasons, the Shock had a good chance to upset the Silver Stars but in the fourth quarter veterans Becky Hammon, Shameka Christon and Sophia Young stepped up and help their team pull away. Young finished with 20 points and 13 rebounds. Hammon had 17 points and nine assists. Christon scored 16 points.
"I was very impressed with Tulsa," said Silver Stars head coach Dan Hughes. "I told the team you got a road win to start the year against a good team….This is a different team that's going to go through our league this year from what I saw tonight."
For the Shock, former Phoenix Mercury point guard Temeka Johnson scored 21 points and dished out nine assists. Ivory Latta added 14 points. Rookies Riquna Williams and Glory Johnson finished with 12 and 11 points, respectively.
Sunday, May 20
Minnesota 105, Phoenix 83 Recap
Last year's Finals MVP Seimone Augustus gave Lynx fans a scare when she left the game in the third quarter after leaping for a loose ball and landing on a courtside seat. Augustus left to court for treatment and returned in the fourth quarter nursing a bruised rib. She did not return to play but that did not stop Minnesota from routing the Mercury 105-83. Augustus scored 19 points before leaving the game, a team high. Monica Wright added 15 points,
Forward Chardé Houston started in place of Diana Taurasi who sat out due to a strained left hip flexor. Houston, an offseason acquisition from the Lynx and a 2009 All-Star, carried the load offensively for the Mercury, finishing with 24 points.
Connecticut 92, New York 77 Recap
In the second game between two teams, Connecticut prevailed again with Tina Charles once again leading the way. She scored 25 points, 18 in the second half, and pulled down 11 rebounds. Asjha Jones contributed 20 points and eight rebounds while Renee Montgomery added 15 points and six assists.
Cappie Pondexter led the Liberty with 18 points and Plenette Pierson added 16.
Upcoming Games (all times ET) | TV Schedule
Tue. 5/22
Minnesota @ New York 7:00pm
Phoenix @ Tulsa 8:00pm
Seattle @ Los Angeles 8:30pm
Thu 5/24
Los Angeles @ Minnesota 8:00pm
Fri 5/25
San Antonio @ Connecticut 7:00pm
New York @ Atlanta 7:30pm
Indiana @ Chicago 8:30pm