Brazil no match for USA in exhibition, suffers 99-67 rout

President Barack Obama met with team after the game. Video: WNBA
Photo gallery | Quotes | Video
In the first game of a doubleheader with the women's and men's national teams of the USA and Brazil, the Americans routed their opponents 99-67 at the Verizon Center in Washington, D.C. While Brazil took an early  lead, 4-2,  in the first two minutes, the USA quickly roared back and went on a 13-0 run spurred by Tina Charles.
Lindsay Whalen led USA Basketball with 21 points, 5 rebounds and 5 assists.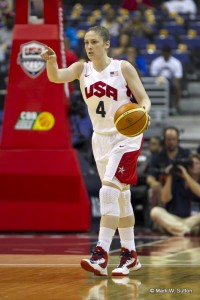 "I wanted to make sure we came out, got good looks and shared the ball, moved the ball," said Whalen. "Be aggressive when the time presented itself. I think it was a good start for us. Got up, pressured the ball, make sure things happen. I think that was the biggest thing coming in and making sure we got good looks."
Whalen started in place of fellow point guard Sue Bird who missed the game due to a death in her family.
"So she may or may not play in the game in Manchester," said USA coach Geno Auriemma. "We're not sure. She might meet us there. She might meet us in Istanbul. We'll know tomorrow. We'll have a better idea what all of the arrangements are surrounding Sue."
Other players in double figures included Diana Taurasi with 16 points and 7 rebounds. Seimone Augustus contributed 12 points, Tina Charles added 11 points plus 10 rebounds and Maya Moore tallied 11 points and six boards.
For Brazil, former WNBA Atlanta Dream and Seattle Storm player Iziane Castro Marques led her team with 21 points. Veteran player Karla da Costa contributed 19 points. Clarissa Dos Santos led all players in rebounds with 15.
All was not smooth for the USA. During parts of the game they appeared out of sync and careless, making bad passes leading to steals by da Costa. By the end of the first quarter the USA led 27-14. At the half the lead had swelled to 20 at 51-31. Dream player Angel McCoughtry attempted a dunk in the fourth quarter but failed.
"That was the lamest attempt at a dunk I've ever seen in my life,," said Auriemma, "and I embellish things a little bit, but I'm not embellishing things."
President Barack Obama missed the game but met with the team afterwards.
During the game the Women's Basketball Hall of Fame announced its 2013 class:  Gary Blair, Jim Foster, Peggie Gillom-Granderson, Jennifer Rizzotti, Annette Smith-Knight, Sue Wicks.
USA Basketball heads to Manchester, England and then Istanbul, Turkey for more practices and tune-up games before their first contest of the Olympics on June 28 against Croatia.
Their schedule:
Manchester, England
7/17
5-6:30 pm
Practice
Manchester Arena
7/18
7:10 pm
USA vs. Great Britain(ESPN3)
Manchester Arena
12:30 pm
Practice
Manchester Arena
Istanbul, Turkey
7/21
TBD
USA-Croatia
Abdi pekçi Arena, Zeytinburnu
7/22
TBD
USA-Turkey
Abdi pekçi Arena, Zeytinburnu
7/23
TBD
Practice
Abdi pekçi Arena, Zeytinburnu
7/24
TBD
Practice
Abdi pekçi Arena, Zeytinburnu
London, England
7/26
9-11 am
Practice
Olympic Park, Basketball Arena
7/27
TBD
Practice
UEL Docklands
7/28
4:45 pm
USA – Croatia
Olympic Park, Basketball Arena
7/29
10:30 am
Practice
UEL Docklands
7/30
10:15 pm
USA – Angola
Olympic Park, Basketball Arena
7/31
11 am
Practice
UEL Docklands
8/1
10:15 pm
USA – Turkey
Olympic Park, Basketball Arena
8/2
11 am
Practice
UEL Docklands
8/3
10:15 pm
USA – Czech Republic
Olympic Park, Basketball Arena
8/4
11 am
Practice
UEL Docklands
8/5
4:455 pm
USA – China
Olympic Park, Basketball Arena
8/6
10:30 am
Practice
UEL Docklands
8/7
TBD
Quarterfinals
Olympic Park, Basketball Arena
8/8
TBD
Practice
UEL Docklands
8/9
Semifinals
North Greenwich Arena
8/10
TBD
Practice
UEL Docklands
8/11
TBD
Finals
North Greenwich Arena