After "the streak" Chicago Sky aims for elusive first playoff berth behind mix of veterans and youth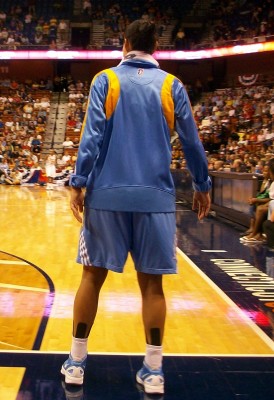 From the time the franchise entered the league in 2006, the fans of the Chicago Sky have not seen a WNBA playoff game in their city. They have seen the comings-and-goings of players, the comings-and-goings of coaches and general managers. The constant has been the inability to make the playoffs.
So you will excuse the team if they were more than a little bit giddy going into this season. With the team mix altered to include both young players on the rise and veterans with championship pedigrees, many thought the Sky could be the best team in the Eastern Conference. A 7-1 start further raised their hopes.
You can also excuse them if they shook their collective heads and said "same old Sky" when the team, after firing out to that impressive start, proceeded to drop 13 of their next 14 games, including nine in a row.
With the losing streak ended on Sunday with a victory on the road over first place Connecticut, the truth can be told; the Sky are somewhere in the middle of both expectations, and definitely still in the hunt for a playoff spot.
Ruth Riley is one of those veterans brought in to help tutor the youngsters in the ways of winning. Riley has been in the playoffs in all but one season of her 10-year career, 2002 with the Miami Sol. Hard work and confidence in your teammates are difference makers according to Riley.
"We've been fighting hard, even through it (the streak). All you can do is keep working, and have confidence that your work is going to pay off."
The theme of team unity, support and doing whatever is necessary for the team could be heard from virtually everyone in the Sky locker room.
Le'Coe Willingham has a championship ring from her days with the Phoenix Mercury. An undersized power forward, Willingham was forced to play some minutes at the center position in the Sky zone on Sunday, with Sylvia Fowles not with the team, and Riley and Carolyn Swords needing a break.
"We've got to do what we've got to do," said Willingham. "We're down a few players, but everyone chipped in with the defense (on Sunday). I'm proud of everybody because we stayed positive even when things weren't going our way, we talked it through and found a way to make it work."
Coach Pokey Chatman has been preaching to the team the need to take ownership for what goes on during a game; especially when it does not go as expected. For example, the game on Friday, August 24 in Tulsa, where the Sky let a 70-62 lead with 2:14 to go in the game turn into an overtime loss.
"After the break, everyone is having that same team meeting; everyone's talking about the break, and rejuvenation and the playoffs and the push," said Chatman. "You try to shrink the schedule down, you shrink the games down, you don't play games, you play quarters. You tighten the focus up, what's right in front of you."
"If we play hard, we've got a chance," she continued, "and it's just a matter of taking advantage of and owning those moments when you create those opportunities for your self to step up. The hard part is to finish it."
Fowles, the All-star center and Olympian has been the focal point on both ends of the court much of the year. But, the pounding of the season and the Olympics are taking their toll physically and mentally on her. She missed the game versus Connecticut on Sunday to allow her some extra recuperation time prior to a difficult stretch of seven consecutive games against teams either in the playoffs right now, or competing for a final spot. She is not the only player banged up right now.
Ticha Penichiero has been nursing season long heel problems that "some days its better than others" and standout Epiphanny Prince, the team's leading scorer, is recovering from a serious ankle injury that sidelined her for eight games, much of "the streak."
Prince is physically back now, but is finding a new obstacle; she is not surprising teams with her scoring outbursts as easily due to defensive changes and her recovery. Her game on Sunday however showed promise for better times.
"It's more how teams are playing me now and I'm not in great shape yet so they try to double team me every time, and I'm trying to make better decisions," said Prince. "Yesterday (Saturday) we all got some extra shots up and it just felt comfortable out there."
There is no doubt however, that the most important addition to the 2012 Chicago Sky was Swin Cash. An NCAA and WNBA champion and Olympic gold medalist, Cash not only has the resume, she puts in the work necessary to build on it. Early on this season she struggled offensively, but she is picking up her scoring, while continuing to provide the other facets of leadership and defense she brings.
"Swin stays connected," explained Chatman. "When she's struggling offensively most players go in the tank, but she goes the opposite, when she doesn't hit her shot she's more aggressive defensively and has that energy. She didn't shoot the ball early on, but to have the fortitude to stay with it. It's infectious for the Sloots (Courtney Vandersloot) and the Piphs (Prince) and the people who struggle also."
Cash knows the psychological importance of that win in Connecticut and the continued development of young players like Prince and Vandersloot, who had a career high eleven assists against the Sun.
"Definitely something we can build on," said Cash. "I thought Sloot made some good decisions down the stretch, keeping her dribble, keeping her head up, able to find the open player. That's what we need. We need her to come in and run the show, and Ticha to come in and do what she does, and give us some composure. I like where we are right now."
Everybody contributed in this game, and that's a positive sign for us, especially knowing we're going to see this team in a couple of days."
The Sky have a more difficult upcoming schedule than New York, who they are battling for that fourth playoff spot, but with the recent coaching and player issues in Atlanta, who is to say that third place is out of reach for these teams?
What is obvious though is that the Sky have to continue to build on the confidence and successes of young players like Fowles, Prince, Vandersloot, and Tamera Young, while still getting the leadership and on-court performance from veterans Cash, Riley, Penichiero and Willingham.
Chatman likes to say that besides her staff, she has additional coaches on her team, that she hopes will help push this team over the top and into the playoffs.
"I've got four coaches, Ticha, Le'coe Willingham one of the smartest players I've coached, and you don't always get that from post players, Ruth and Swin. Every time I go to the huddle I have to wait fifteen seconds, and I wait, because I know what they're saying, and they know how to present what to who. If Piph needs to be pushed, or Sloot needs to be encouraged, that's veteran stuff that can't go away when we're struggling, and that's why I respect them so much. And it means a lot, I could say the same stuff, but when it comes from your teammate, it's like your parents, you receive it a little bit better.
Will this be the year the drought in Chicago ends? The Sky have a month to make it happen.
The Sky face the Sun at home, Tuesday, August 28 at 8 p.m. ET.