Baylor 2012-13 schedule includes Stanford, Connecticut, Notre Dame, Kentucky and Tennessee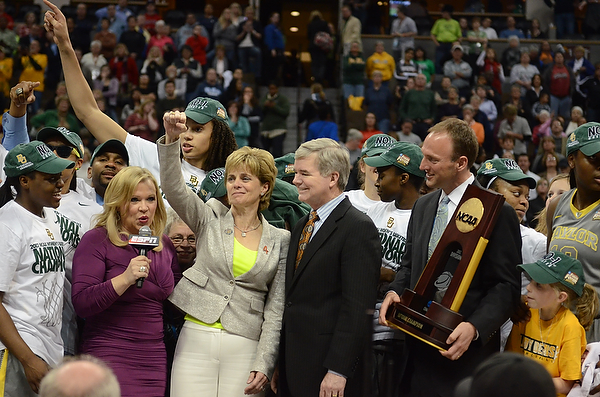 From Baylor:
After posting a historic 40-0 record, claiming the 2012 NCAA Championship crown and having all five starters returning, the 2012-13 Baylor Lady Bears face their most daunting schedule in school history. Contests against the three other teams that played in the 2012 NCAA Women's Basketball Final Four highlight Baylor's 2012-13 non-conference schedule and the Big 12 Conference, which welcomes two newcomers to the league in TCU and West Virginia, is as competitive as usual.
In addition to taking on Final Four participants Stanford, Connecticut and Notre Dame in non-conference action, the Lady Bears have games scheduled against national powers Kentucky and Tennessee. In fact, eight of BU's 12 non-conference opponents posted 20 or more wins last season and three of those foes recorded 30-plus victories.
"After posting a 40-0 record last season and having all five starters returning, we felt we needed to assemble an extremely challenging non-conference schedule, one that will prepare us for the rigors of the always competitive Big 12 Conference season and NCAA Championship play. We have certainly done that, it is the most aggressive schedule we've put together. Our fans and basketball fans nationwide will get to see us compete against the best," said head coach Kim Mulkey.
Led by returning All-Americans Brittney Griner, Odyssey Sims and Destiny Williams, Baylor will face a couple of other national champion teams in exhibition action. The Lady Bears will take on NAIA champion Oklahoma City University and NCAA Division II champion Shaw University in the Ferrell Center on Oct. 30 and Nov. 5, respectively. Baylor will open the regular season at home when it hosts Lamar (Nov. 9) followed by a home game vs. (Nov. 13).
The Lady Bears will hit the road for the first of four non-conference road trips when they travel to Hawai'i to play in the Rainbow Wahine Classic, Nov. 16-18. The Stanford Cardinal are first up for Baylor followed by UT-Martin and host Hawai'i. Baylor completes November action by hosting Liberty on Nov. 23 and traveling to Houston to take on the Rice Owls on Nov. 27.
December action opens with a trip to South Bend, Ind., where the Lady Bears will play a Dec. 5 game against Notre Dame, the team they defeated for the national championship in Denver last April. Three home games close out the 2012 year with a Dec. 12 matchup vs. Oral Roberts, a Dec. 18 game against Tennessee and on Dec. 29, Southeastern Louisiana comes to the Ferrell Center.
Baylor's final non-conference game, a road contest, will be vs. Connecticut on Feb. 18.
Baylor, the defending Big 12 champion, will open league play on Wednesday, Jan. 2, 2013 and conclude on Tuesday, March 4, 2013.
The 2013 Big 12 Conference schedule features a double round-robin format for the second consecutive year consisting of 18 games with Conference members playing each other twice.
The format has been adjusted for the 2013 Phillips 66 Big 12 Women's Basketball Championship as it will be played the weekend before the men's championship, and in a different city for the first time in Conference history. Dallas' American Airlines Center will host the women's championship Friday-Monday, March 8-11, 2013. The men's championship will be played March 13-16 in Kansas City's Sprint Center.
Two first-round matchups of the Phillips 66 Big 12 Women's Basketball Championship will be played on Friday, March 8, followed by quarterfinals on Saturday, March 9. Semifinals are scheduled for Sunday, March 10 with the final contested on Monday, March 11.
As always, dates are subject to change for television, home games in all caps.
2012-13 BAYLOR WOMEN'S BASKETBALL SCHEDULE
Oct. 30 – OKLAHOMA CITY UNIVERSITY (EXH.)
Nov. 5 – SHAW UNIVERSITY (EXH.)
Nov. 9 – LAMAR
Nov. 13 – KENTUCKY
Nov. 16 – vs. Stanford^
Nov. 17 – vs. UT-Martin^
Nov. 18 – at Hawai'i^
Nov. 23 – LIBERTY
Nov. 27 – at Rice
Dec. 5 – at Notre Dame
Dec. 12 – ORAL ROBERTS
Dec. 18 – TENNESSEE
Dec. 29 – SOUTHEASTERN LOUISIANA
Jan. 2 – at TCU*
Jan. 5 – OKLAHOMA STATE*
Jan. 9 – IOWA STATE*
Jan. 12 – at Kansas*
Jan. 16 – at Kansas State*
Jan. 19 – WEST VIRGINIA*
Jan. 23 – at Iowa State*
Jan. 26 – OKLAHOMA*
Jan. 30 – at Texas Tech*
Feb. 2 – at Oklahoma State*
Feb. 6 – KANSAS*
Feb. 9 – at Texas*
Feb. 12 – TEXAS TECH*
Feb. 16 – TCU*
Feb. 18 – at Connecticut
Feb. 23 – TEXAS*
Feb. 25 – at Oklahoma*
March 2 – at West Virginia*
March 4 – KANSAS STATE*
March 8-11 – at Big 12 Championships (Dallas)
^ Rainbow Wahine Classic – Honolulu, Hawai'i