Big 12 coaches express a range of opinions on Geno Auriemma's suggestion to the lower the rim in women's game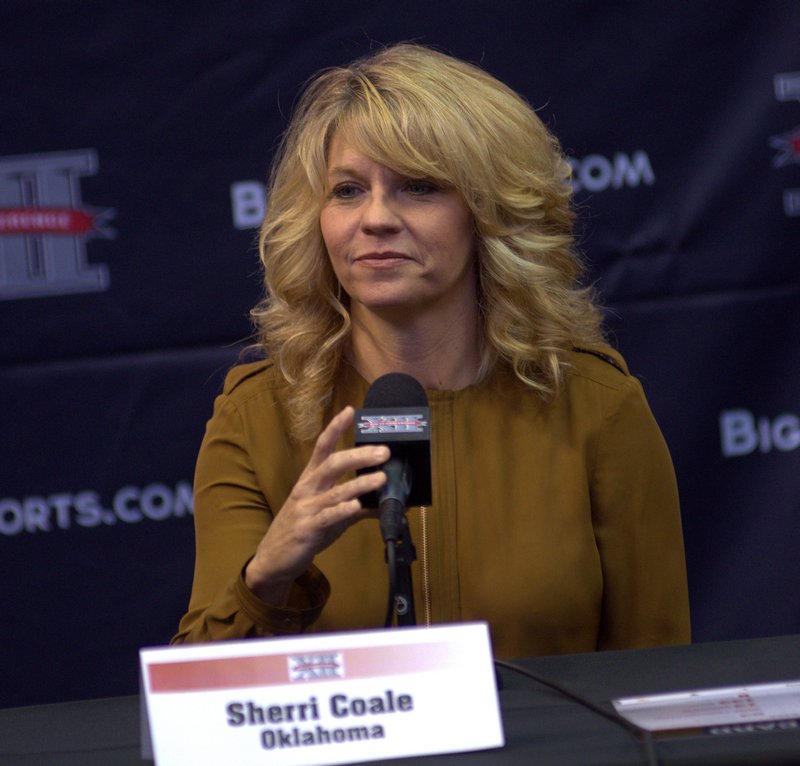 DALLAS – Various suggestions to lower the rim in women's basketball are not new ideas. In the spring of 2010 during the world championship, FIBA's top officials announced that they would consider it in the international game. This past week Connecticut coach Geno Auriemma stirred the pot of controversy by suggesting it for the college game, garnering national attention on popular sports talk shows , in mainstream newspapers and from the coach of the WNBA champion Indiana Fever.
we don't need to lower the rim….we need to speed up the game!

— Lin Dunn (@Coach_Dunn) October 24, 2012
Coaches who gathered at Thursday's Big 12 women's media day in Dallas expressed a range of opinions and a few non-opinions about the idea.
Advocates of the idea argue that it would make the game more exciting, providing more offensive efficiency including more tip-ins, more made layups and more dunks.
"Some of the players can't shoot and they miss layups, and that forces the game to slow down," Auriemma told the Hartford Courant. "Now there would be fewer missed layups, because the players are actually at the rim. Shooting percentages go up. There would be more tip-ins."
After initially saying she did not have an opinion of the matter, the coach of reigning national champion Baylor, Kim Mulkey, made the point that changes to the game have already been made.
"We changed the women's game. We've got a smaller ball than the men, changed the distance from the three-point line," said Mulkey. In her answering the last question during a Q&A with the media she explained further and also addressed the recent announcement that the NCAA officials would be monitoring the pace the game in the upcoming season.
"We're always changing something," she said. "I'm of the belief sometimes that if it's not broken, don't fix it. I like our game. I think it's at a pace where I don't know what you need to change. But I'm good for whatever is good in women's basketball. Right now I don't have an opinion on lowering the goals. I don't have an opinion on the back court. Just tell me what the rules are and let's go play.
Iowa State coach Bill Fennelly provided humorous answer to the question along with his thoughts.
"That's way above my pay grade," said Fennelly about giving an opinion on the issue. "When you're Geno and you've got one name, you can kind of do and say what you want to say. I haven't thought much about it. I think that there are things that our game can do better, and I think Geno, in my talking to him, it's always about we missed too many layups, and we need to be better at that."
Fennelly talked about the impact on the popularity of the game and  practical applications of the suggestion.
"I don't personally think it's going to change how people are interested in the women's game," he said. "I think there are practical applications to how would you do it? Do you change high school gyms that have baskets attached to the walls and things like that?  I haven't had the time to study it like he has.
Iowa State has led the league in attendance for several years in a row with an average of 9,800 fans per game. Its attendance ranks third nationally behind Louisville and Tennessee so the interest in women's basketball in Ames is already at a high level. He did give Auriemma credit for thinking outside of the box.
"The thing about Geno is he's always thinking outside the box. Sometimes in our sport you have to do that kind of thing. But when we're not as good as them, so I'm more worried about not turning the ball over than I am with how tall the baskets are."
Big 12 newcomer Texas Christian coach Jeff Mittie expressed his support of the idea.
"I actually like the idea," said Mittie. "I tell you why. We need to make some bold choices in women's basketball, and I think we need to do bold things. That is outside-the-box thinking, and I think that those type of discussions need to be had, because it is a different game than the men's game."
Mittie also made points about dunking.
"You'd have more players across the country being able to dunk it and dunk it in a variety of ways. I think it's a worthy discussion, but I think there is some merit to it"
While not expressing a concrete opinion, Oklahoma coach Sherri Coale elicited chuckles from the media present with her initial remarks.
"Oh, my heavens," said Coale. "I really do think his team must be so good that he didn't have anything to rant about, so he just started talking about lowering the stinkin' rim. Here's what I think about it. I think a basketball goal is a basketball goal is a basketball goal. One of the unique and fabulous things about our sport is you just need a ball and a goal and nobody else, and you can get better. You can walk out to any neighborhood park and take that ball and shoot on that goal and get better. You can go to the rec center, and can you go to an elementary gym, a high school gym, you can go to an arena like American Airlines and the goals are ten foot tall, and you can shoot on them and get better."
Coale continued, "I don't think we want to put ourselves in a situation where we have to find a women's goal so we can get better as players."
Other coaches answered the question with a somewhat indifferent air given the fact that they already have numerous issues to deal with just maintaining of their own programs.
"I really don't have that much of an opinion on it," said Texas Tech coach Kristy Curry. "I think I focus so much every day on how I can put the people around me in a position to be successful. So I try not to focus on all that other stuff that can take your time."