Big 12 women's basketball coaches heap praise on newcomers Texas Christian and West Virginia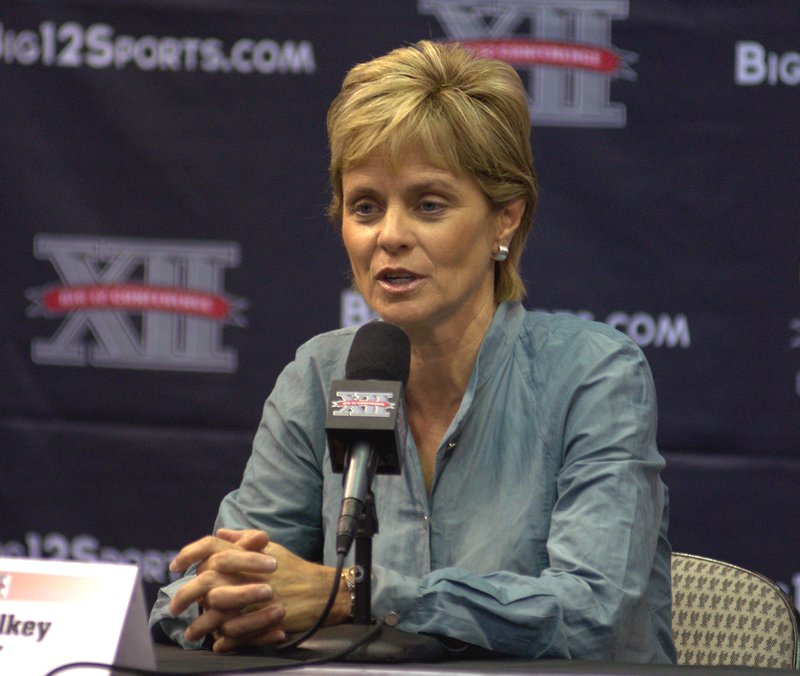 DALLAS – With two new members in the conference and the departure of two others, longtime Big 12 coaches talked a lot about change in the league during Thursday's Big 12 women's basketball media day in Dallas.
West Virginia and Texas Christian University are new members while Missouri and Texas A&M are now in the SEC. WVU coach Mike Carey and TCU's Jeff Mittie expressed their joy at being a part of the Big 12.
"I know we're coming into a great conference," said Carey, "We know it's the highest RPI conference. We understand they won the national championship the last two years."
TCU in Fort Worth, is a within a two-hour drive of Baylor and just three hours from the University of Texas in Austin.
"This league is a tremendous women's basketball league," said Mittie, "and that is exciting for us at TCU."
Longtime Big 12 coaches heaped praise on their new competitors.
"I'm excited because in women's basketball those two programs bring credibility," said Baylor coach Kim Mulkey, "and they bring great coaches and great players."
Baylor faced West Virginia in the second round of the NCAA tournament in 2011 beating the Mountaineers 82-68. The last time Baylor played TCU was in 1996, a 92-85 victory for the Lady Bears.
Oklahoma is already very familiar with TCU.
"We've had a nice rivalry with TCU just because we've tried to play home-at-home with them in our preconference schedule, because we love playing in the Dallas-Fort Worth area," said Oklahoma coach Sherri Coale. "Jeff does a tremendous job with his kids, and they always find a way to find themselves in the NCAA tournament at the end of the year."
Kansas coach Bonnie Henrickson praised Mittie's style of coaching.
"He's creative," she said. "I've got great respect for what he does. He doesn't have to be the same thing every year. He tweaks it enough to who he has in his program, and to give them a chance to be successful."
West Virginia
Coale commented on the changes in the league in her thoughts on West Virginia and the fact they come from a "very tough Big East conference, and have a great reputation as a very tenacious basketball team."
"They have talented kids, and that will be a tough place to play," said Coale about WVU. "I just think there will be a different flavor and a different twist to league play this year."
Kansas State coach Deb Patterson echoed those sentiments.
"In adding West Virginia, you've added an athletic, strong, physical basketball team that knows how to win and is extremely well-coached, from a league that has seasoned that program over the years," said Patterson. "They have lined up against the likes of Notre Dame and Connecticut year in and year out and have competed toe-to-toe with those programs."
Oklahoma State coach Jim Littell compared West Virginia to Texas A&M.
"I think with West Virginia, you're bringing a team in that is very similar in style of play to Texas A&M," said Littell, "and we know what Texas A&M has been to this conference for a long time. It's a very physical team that is going to bring a style of play to the conference much like Texas A&M did."
The Big 12 leads the country in league RPI and Littell expects that to remain true in the future with the two new teams.
"I don't have any doubts it will continue to be the number one RPI conference in America."
Kansas coach Bonnie Henrickson, who became familiar with West Virginia and coach Mike Carey during her days as coach of Virginia Tech from 1997 to 2004, also likened WVU to Texas A&M in terms of defense. She also commented on his sideline demeanor.
"The first time I watched him on film his first year, and my staff said 'would you stop watching him?' And I said 'he's kind of animated.' He's fun to watch. He promised me he's toned down a little bit."
Iowa State's Bill Fenelly commented on WVU's long run of success on the Big East.
"It's an outstanding team, and one that I think has had a long run of success," said Fennelly. "I don't see why that will change when they come to our league."
Even though the league lost a previous national champion in Texas A&M, K-State's Patterson feels the Big 12 did not lose any of its competitiveness with the new additions.
"So we know we have a formidable addition to our league with both of those programs, and really haven't necessarily skipped a beat," she said. "It's not that in changing one team in and one team out that I think we've become weaker. I think we've sustained the great level of excellence that the Big 12 has always been known for."