Caroline Doty and Twitter remind Dishin & Swishin of what makes women's hoops special
It has been a few years now that I have had the privilege of covering Connecticut women's basketball online and hosting the Dishin & Swishin podcast. It is a labor of love for me, and I consider myself fortunate that the organizations and schools trust me with their most prized assets, their players and coaches.
Still, like all good things, occasionally things get a little stale, and you become less motivated. Then something happens, and it triggers a response you were not expecting, and perhaps not prepared for at the moment.
While I planned on making the trip to Storrs, Conn. for the first media gathering of the 2012-13 Huskies, the excitement of a new season also brought with it that feeling of "what am I really going to talk about after four days of practice with a college kid?"
Then my attitude changed this week, by a tweet. Yes, one single tweet, changed my entire disposition and attitude, and it brought me back to what this is really all about for me.
Taylor Iorfino is 15 years old and a freshman at Masuk High School in Monroe, Conn.. According to her mother, Donna Kosakowski, Taylor has been playing basketball since second grade. She started in Future Stars, played for her middle school and town travel team. Taylor has even been playing AAU basketball for Connecticut Premier for the last three years. Taylor is preparing to tryout for the high school team.
Taylor asked Hoopfeed if there was any UConn news, and she was told it would be coming, via me, @DishNSwish on Twitter. I asked Taylor, not knowing Taylor as anything but another Husky fan, if she had any questions she wanted me to ask anyone in particular.
Here is the tweet I received from Taylor: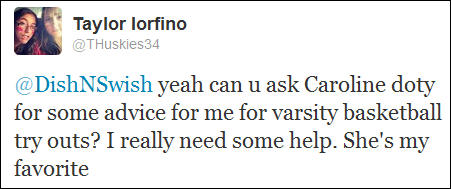 Taylor went on to tell me that she and her mother had attended First Night at UConn that past Friday, and she had gotten too nervous to ask Doty herself "since I love her so much."
That made me smile. It also brought me back to a simpler time in my life. My daughter was born in March 1995. In the state of Connecticut, that is a hallowed time, the time when the University of Connecticut women's basketball program burst into national prominence behind Rebecca Lobo. I had always been a spectator for all kinds of sports, and having a daughter now, it seemed only logical that I give women's basketball a try.
While I enjoyed the pureness of the game, there is no "I immediately loved this game and needed to make it part of my life" story here. In fact, it was not until one brash freshman from California came to Connecticut that things got interesting.
You see, as Taylor loves Caroline Doty, my daughter loved Diana Taurasi, and she had gotten to meet her a few times. She even invited Taurasi to her eighth birthday party (Diana was busy). My family ended up in New Orleans at the 2004 Final Four to see Taurasi and the Huskies. It was there she met Tamika Catchings, Alana Beard and Lindsay Whalen. All three treated this little girl like a person, with respect and with friendship.
We became Connecticut Sun season ticketholders to keep up with my daughter's "friends" and to this day, Catchings, Beard and Taurasi still give me a hug when they see me and ask about her (and our dog is named Whalen).
For me, the respect that these special athletes showed their fans turned me into an unabashed supporter of the game, and someone who works to promote and spread the gospel of women's basketball to all via my writing, tweeting and podcasts.
Donna told me in an email that Taylor "studies the UConn players' moves and hopes to be a Husky one day.
"She knows pretty much everything about all of the players but she relates to Caroline because they have a lot in common. Taylor loves to take and edit videos. She loves the video that Caroline did to 'Call me Maybe.' They are also the same height and Taylor wants to be like her when she gets into college. She loves her personality from the videos that she has seen on YouTube and tweets."
So, to Caroline Doty, Taylor says "I love Caroline Doty so much and want to be just like her. She never gives up even when she is injured or when they are behind. She's an awesome 3 point shooter."
To Taylor, Caroline has the following advice for you:
To both Taylor and her mother Donna, I wish you good luck in your tryout for Masuk's teams, and I hope you enjoy the 2012-13 Husky season. It is going to be a good one. And if you make it to Gampel or the XL Center, let me know so I can hear about your season.