Dishin & Swishin 10/18/12 Podcast: WNBA President Laurel Richie on stability, growth and more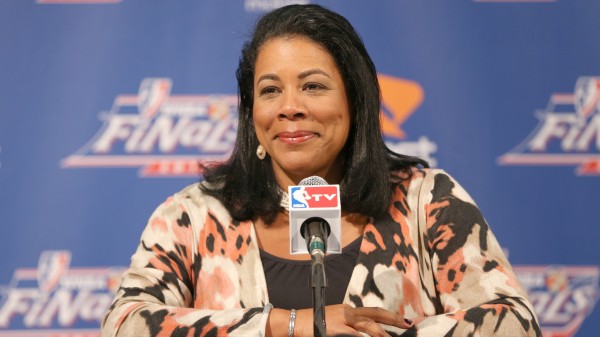 [display_podcast]
Val Ackerman and Donna Orender are a tough act to follow. They both brought a basketball and sports background to their time as president of the WNBA, and that was reflected in the perception of their administrations by the general public.
Laurel Richie became president of the WNBA on April 21, 2011, just prior to last season, leaving her position as senior vice president and chief marketing officer for Girls Scouts of the USA. Prior to working at the Girl Scouts, Richie worked at Leo Burnett Worldwide, an advertising agency. Needless to say, Richie's term will be viewed as the time the WNBA began to really stand on its own two feet, and go market itself as an entity worthy of committing time and money towards.
In between Finals games and charity appearances this week, Richie was kind enough to join Dishin & Swishin to talk about the WNBA.
In an all too fast twenty minutes, we covered topics including:
Is it important for her to be more visible to the fans and public?
The role of the league in helping franchises grow attendance.
The advancing of corporate sponsorships and the diversity being used to market the league.
The problems and opportunities created by the Olympic Games and break.
The role of the internet, Twitter, and WNBA.com in marketing the league.
The 2012 season and the 2013 draft, including her thoughts on the perception of "tanking."
The WNBA has had highs and lows in 2012:
The playoffs have been phenomenal, but the qualifying for the playoffs was pretty well over early in conference series.
There are Olympic participants that have never wavered, like Seimone Augustus, Tamika Catchings, Maya Moore and Lindsay Whalen in the finals, but there were players that missed time before and after the Olympics for injuries or country allegiance.
Overall attendance did not improve, but season ticket sales and renewals and group sales have improved.
President Laurel Richie and her staff have a watchful eye on all of these things, and an eye on the future, especially the immediate future. There is no denying that it was a big deal when ESPN chose to cover the draft lottery live. Factor in that the "big three" of Brittany Griner, Skylar Diggins and Elena Delle Donne were also on campus at ESPN promoting their upcoming seasons, and you have a reason for excitement.
How it will pan out, we will have to wait and see. After listening to this interview though, no one can deny that Laurel Richie is a determined woman who is not going to sit back and watch the WNBA fail on her watch.
Enjoy the podcast!