Dishin & Swishin 10/11/12 Podcast: "Mama Taj" talks longevity, playoffs and a whole lot more
[display_podcast]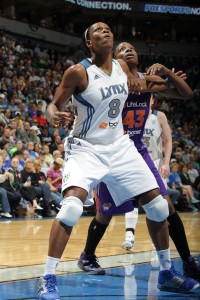 It is a sign of respect when a veteran or mentor is referred to with a nickname like "Mama" or "Pops."
But when the president of the United States calls you that while honoring your team? Now that is respect!
Only a few weeks ago the 2011 WNBA champion Minnesota Lynx finally made it to the White House to be honored by President Barack Obama. During the team's visit the president referred to Taj McWilliams-Franklin as "Mama Taj." The agile veteran is still going strong in her fourteenth year in the WNBA (not to mention her American Basketball League years as well).
The Lynx's 2012 playoff run has been a walk down memory lane for McWilliams-Franklin. Former ABL opponents (Katie Smith, DeLisha Milton-Jones and coach Brian Agler), WNBA finals opponents (Sue Bird and Lauren Jackson), and WNBA teammates from other teams (Alana Beard and Smith) all have fallen to the Lynx in their "Road to Repeat" journey.
Longevity will breed that type of familiarity, but it also produces some impressive statistics, including the fact that she now owns the record for most playoff games, and, by the time the finals are completed, McWilliams-Franklin will be either tied for or will take over the lead for the most games played in the WNBA finals.
While the Lynx had a break prior to the finals, McWilliams-Franklin joined Dishin & Swishin for a "brief chat." Thirty minutes later, the conversation covered everything from her health, and that of teammate Lindsay Whalen, family, the dominance of Rebekkah Brunson, the dramatic improvement in coaching over the years and the 2012 Coach of the Year award, including her opinion who should have won (and it is not Lynx coach Reeve or the actual winner, Los Angeles Sparks coach Carol Ross).
We flashed back to a playoff game I attended and will never forget, comparing Monica Wright's corner jumper to help win the Western Conference finals to Brooke Wyckoff's jumper that helped keep the Sun alive in the 2005 finals. We talked about her second trip to the White House, the wonder that is Maya Moore, her role of mentor, and even discussed her new position as assistant coach at Rice University, where her first project is Conference USA Pre-season Player of the Year Jessica Kuster, who (surprise!) was All Defensive team and led the conference in rebounding last year.
All in all a jam packed half hour with a legend of the WNBA. Get ready for the WNBA finals, it should be a great series no matter which team the Lynx play, Connecticut or Indiana. For sure though, "Mama Taj" will be in the thick of things, giving it her all.
Enjoy the podcast!