Tamika Catchings leads Fever, Indiana reaches WNBA finals, Katie Douglas injured in first quarter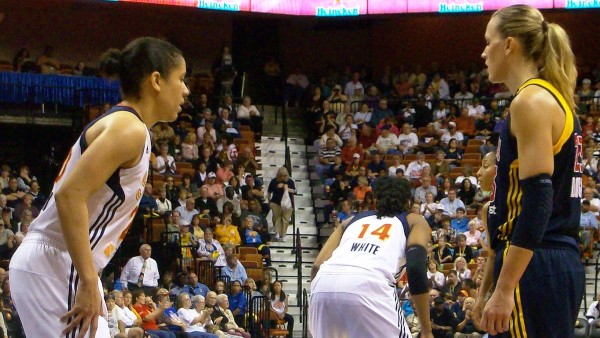 Even without Katie Douglas playing for the majority of the game, the Indiana Fever reached the WNBA finals after routing the Connecticut Sun 87-71 in a contest that was lopsided for most of the night.
During the first quarter, about five minutes into the game, Douglas went up for a shot, landed on her left foot and severely rolled her ankle in the process. She crumpled to the floor. After leaving the court to head to the training table area she went to the hospital. She scored two points before the injury.
Her team reached the WNBA finals for the second time in four seasons (2009, 2012). The Fever is set to meet the defending WNBA champion and West top seed Minnesota Lynx in a best-of-five-game series beginning Sunday, October 14 in Minneapolis.
Tamika Catchings led the Fever with 22 points and 13 rebounds. Erin Phillips scored 15 points, Jeanette Pohlen contributed 14, Brian January had 12 and Shavonte Zellous finished with 11.
For the Sun, Tina Charles had 18 points plus 10 rebounds. Kara Lawson scored 16 points, Renee Montgomery had 13 and both Asjha Jones and Allison HIghtower contributed 10 each.
The Fever lead at the half 43-24. Overall, they outrebounded the Sun 30-28. The Fever shot 54.8 percent from the field compared to the Sun's 40.6 percent. Connecticut had the edge with points in the paint with 36 in contrast to the Fever's 30.
To reach the championship game, Indiana defeated the Atlanta Dream in games two and three of the East semifinals after falling to the Dream on its home floor in game one. Similarly, the Fever lost game one to the Sun before recovering to defeat the East's top seed with wins in games two and three.