Lynx rebounding prowess helps fuel victory over Sparks in Western Conference finals opener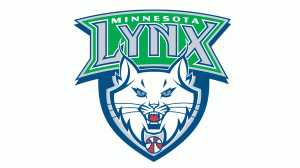 Video recap
The Minnesota Lynx doused the Los Angeles Sparks, 94-77, in the first game of the Western Conference finals at the Target Center Thursday night in front of a raucous crowd of 8,513 fans. The Lynx extended their postseason home winning streak to eight games.
The win came just two days after the Lynx eliminated the Seattle Storm in a hard-fought semifinal series that went to three games.
"I was really proud of our team," said Lynx head coach Cheryl Reeve. "The first thing I told them was there were a lot of excuses that were built into this game they could've signed onto and they didn't. I thought preparation for such a quick turnaround – we just had a day and typically we don't like to practice after a game. We had a tough three-game series with Seattle and had to turn around and get right back into the gym yesterday. The way they approached practice yesterday was really good."
Lynx starting point guard Lindsay Whalen who played with a broken left ring finger and a bruised left wrist, showed no signs of trouble as she managed her team and finished the game with 12 points.
"Everything that we have told you about Lindsay and everything you know about Lindsay is that she is tough as nails," said Reeve.
Reeve indicated that Whalen was in a lot of pain but played through it.
"I know the trainers got some good meds in her and I suspect she won't sleep well tonight because it's going to be throbbing and she will be in pain," said Reeve. "Actually, it probably won't be that bad because we won the game. I'm impressed with her. That is what I told her, I just love the courage that she plays with and she is just such a good leader."
The Lynx fought off the plucky defense of the Sparks and the smooth offense of forward Candace Parker in the first half with the game staying close until midway through the second quarter. The Sparks built their largest lead, 15-10, on a pair of Alana Beard free throws in the 1st quarter, but Minnesota outscored Los Angeles 36-11 over the next 13 minutes. Minnesota went into the locker room with a 48-31 lead. At the half Seimone Augustus had 12 points and Rebekkah Brunson tallied 10 points plus five rebounds. The Lynx outrebounded the Sparks 22-11 in the first half.
Brunson came mentally prepared for Parker.
"I think we knew what she was going to bring to the table," said Brunson. "We knew what type of energy she was going to have. So we just went there and I just tried to work as hard as I could to put myself in a good position to be successful."
The Sparks narrowed the deficit in the third quarter and ended the period down 13 points, 66-53. They started the fourth quarter with a pair free throws from Jenna O'Hea but the Lynx began to take over and ended the game with a 17-point margin of victory.
Maya Moore led the Lynx with 20 points and Augustus had 16 points, six rebounds and seven assists. Brunson finished with 14 points and 10 rebounds, her fifth career playoff double-double (third of 2012).
Parker led the Sparks with 25 points plus 11 rebounds. Alana Beard contributed 16 points and Kristi Toliver had 12 points.
"We have to go back to drawing board and re-look at things," said Sparks head coach Carol Ross about the outcome. "Look at the people, how we are playing personnel and what schemes we are playing defensively. We have to be much better offensively. We have a lot of work to do in a short amount of time."
Ross was not pleased with her team's rebounding performance.
"They were pounding us on the boards the entire night. If you are not rebounding, you are not winning," said Ross. "You're not winning possessions and you are certainly not going to win the game. We ended it with four offensive rebounds and I think we had one at halftime. You can't survive that way. I know in the first two quarters we were not rebounding the missed shots very well and that is a part of it."
The two teams meet again Sunday, October 7 at 3:30 p.m. ET in Los Angeles. The game will be televised on ABC.
The Eastern Conference finals begin tonight in Connecticut with the Sun hosting the Indiana Fever at Mohegan Sun. 8 p.m. ET at Connecticut. The game will be televised on ESPN2.
Notes
The contest marked Taj McWilliams-Franklin's 59th career postseason game, moving her past San Antonio guard Becky Hammon for the most in league history. Including regular season and playoff contests, McWilliams-Franklin has now appeared in 499 WNBA games. Only Tangela Smith (515) and Tina Thompson (507) rank ahead of her in that category.
Minnesota received a combined 26 points, 10 rebounds and five assists from its bench, highlighted by playoff career highs from Monica Wright (nine points, two steals) and Amber Harris (nine points, four rebounds).
Minnesota set franchise single-game playoff records for most field goals made (40) and attempted (82), most three-pointers made (9) and attempted (21), fewest free throws made (5) and attempted (6), most assists (22, tied) and fewest personal fouls by an opponent (13).