Sentimentality does not win a playoff series: A look at the Eastern Conference finals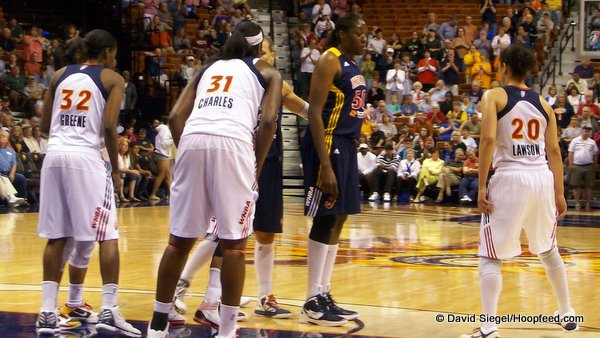 Game 1: Indiana at Connecticut
Fri, Oct. 5, 8 ET, ESPN2
Game 2: Connecticut at Indiana
Mon. Oct. 8, 8 ET, ESPN2
Game 3*: Indiana at Connecticut
Thu, Oct. 11, 8:30 ET, ESPN2
* if necessary
If you took a poll around the WNBA, asking players, coaches, general managers and even fans who is the one person they would like to see win a championship before they retire, that answer would most likely be Tamika Catchings. After a tough three-game series win over Atlanta, Catchings finds herself knocking on the door to the finals once again.
Standing in the way of Catchings and her Indiana Fever teammates this year are the number one seed in the East, the Connecticut Sun.
Led by Most Valuable Player Tina Charles, the Sun earned the home court advantage by winning 25 games this season, and sweeping the season series against every team in the Eastern conference, a first-time feat.
Connecticut defeated Indiana in three of the four games the teams played this year, but that can be misleading. The largest margin of victory for the Sun was eight points, and one of the games went to overtime. In fact, the only blowout of the series was Indiana trouncing Connecticut 95-61 back in June.
Katie Douglas has been a dominant scorer throughout her career, and she really poured it on versus the Sun this year, averaging 20.5 points per game against her former team. Catchings averaged 18 points per game, including a 31-point explosion on June 8. When the Fever won their one game, six players were in double figures. Connecticut will have to contain the "supporting cast" of the Fever, notably guards Briann January and Erin Phillips.
The Sun, on the other hand, used a balanced attack in defeating the Fever, with guard Kara Lawson averaging 18 points per game to lead them. When Indiana defeated Connecticut, they held Lawson to only ten points. She had 18, 22, and 23 in the Sun's three victories. Holding Lawson in check will be important for the Fever.
On the boards may be where this series is won or lost. Connecticut plays a three-guard lineup frequently, but their post rotation of Charles, Asjha Jones (who has now had an extra week to recover from her heel injury), and Mistie Mims can be strong at times, but has also been vulnerable to strong rebounders. In the last two games of the series with Atlanta, Indiana went smaller than usual, with Erlana Larkins playing center and Catchings power forward. Tammy Sutton-Brown saw some minutes off the bench, but Jessica Davenport did not play. Will this work against a center with the size and array of moves of Tina Charles? She is a different type of post than Atlanta had, and Sutton-Brown and Davenport will be necessary to help try and control her.
In the end, this will be a physical and aggressive series and defensive-minded. Only once in the four games they played did a team score 90 points, and that was Indiana in their big win. Indiana is going to be looking for January or someone else to support Douglas and Catchings. Connecticut is going to need to control the boards and make sure Lawson gets good looks at the basket.
2012 Regular Season: Connecticut 3, Indiana 1
Friday, June 8, Bankers Life Fieldhouse, Indianapolis, IN: Sun 89, Fever 81 | Box Score | Highlights
Connecticut Leaders: Tina Charles (12 pts., 14 reb.), Kara Lawson (18 pts., 7 reb.)
Indiana Leaders: Tamika Catchings (31 pts., 8 reb.), Katie Douglas (23 pts., 3 reb.)
Tuesday, June 19, Mohegan Sun Arena, Uncasville, CT: Sun 88, Fever 85 | Box Score
Connecticut Leaders: Tina Charles (14 pts., 8 reb.), Kara Lawson (22 pts., 4 reb.)
Indiana Leaders: Tamika Catchings (14 pts., 7 reb.), Katie Douglas (23 pts., 9 reb.)
Thursday, June 21, Bankers Life Fieldhouse, Indianapolis, IN: Fever 95, Sun 61 | Box Score | Highlights
Connecticut Leaders: Mistie Mims (11 pts., 5 reb.), Kara Lawson (10 pts., 6 reb.)
Indiana Leaders: Tamika Catchings (13 pts., 10 reb.), Briann January (20 pts., 3 ast.)
Wednesday, September 19, Mohegan Sun Arena, Uncasville, CT: Sun 73, Fever 67 | Box Score
Connecticut Leaders: Tina Charles (17 pts., 12 reb.), Kara Lawson (23 pts., 6 reb.)
Indiana Leaders: Tamika Catchings (15 pts., 5 reb.), Katie Douglas (19 pts., 4 reb.)