Pat Summitt statement in response to affidavit in Jennings lawsuit vs. Tennessee, former coach says she was not forced out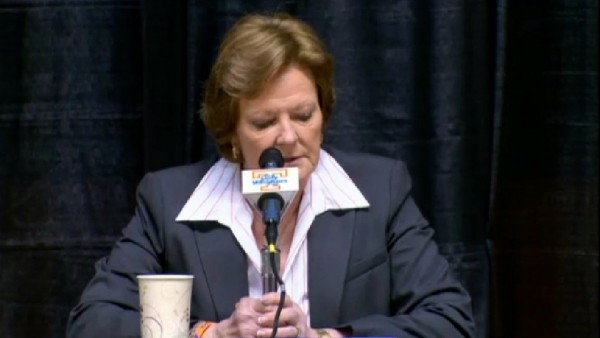 Pat Summitt released a statement Friday afternoon saying she was not forced out as Tennessee's head women's basketball coach this past spring. The statement came in response to an affidavit filed this week in a lawsuit by former Lady Vols media relations employee Debby Jennings who is involved in an employment discrimination dispute with the university. The affidavit raised questions as to whether or not Summitt was forced out of her job after disclosing a diagnosis of early onset dementia, Alzheimer's Type, before the start of the 2011-2012 season. Summitt's current position is head coach emeritus for the program.
The text of the statement:
I am aware from media attention over the past few days that my affidavit attached to recent court filings in a dispute between Deborah Jennings and the University of Tennessee has resulted in some misunderstandings regarding my departure as Head Coach of the University of Tennessee Lady Vols. As a result, I feel it is important on my own initiative to provide this clarification.

It was entirely my decision to step down from my position as Head Coach of women's basketball at the University of Tennessee. As I stated at my press conference in April when I announced my decision, I loved being the Head Coach for 38 years, but, after consultation with my son, my doctors, my lawyer, and several close friends, I concluded that the time had come to move into the future and step into a new role. I have welcomed and enjoyed my new role as Head Coach Emeritus, and I am excited for the opportunities that now await my dear friend and colleague Holly Warlick as Head Coach.

I did not then, and I do not now, feel that I was forced out" by the University. Anyone who knows me knows that any such effort would have met with resistance. If my affidavit has caused confusion on that point, it needs to be dispelled. In connection with my move from Head Coach to Head Coach Emeritus, the University has treated me with the utmost respect and graciousness, as it always has throughout my tenure as Head Coach.