Dishin & Swishin 2/28/13 Podcast: Best kept secrets – meet just a few of the players making mid-major basketball great
[display_podcast]
We have a very special double-header event for this week Hoopfeed!
Today's Dishin & Swishin podcast looks at the mid-majors in women's basketball. We have four different interview segments for you, each with talented players from a mid-major program that should garner your attention as we head into conference and national post-season tournaments.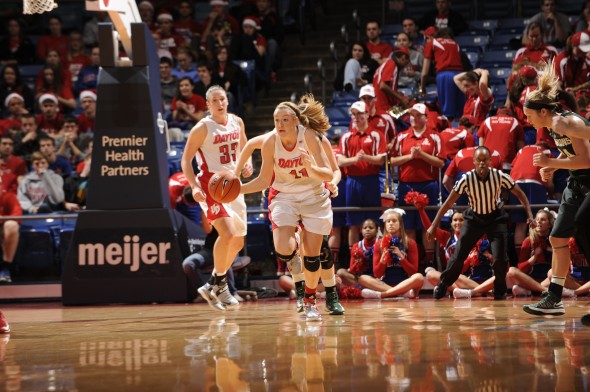 In addition to the podcast, we present the first Dishin & Swishin Q & A Session. ESPN writer Graham Hays has taken his time to answer several questions on one of his basketball loves, the mid-majors. The writer of ESPN's weekly mid-major poll, Hays answered questions on building a successful mid-major program, top coaches and players, and the prospect of success in the postseason. You will not want to miss it. Click here to read it.
Now, onto the podcast!
Each participant has a unique story and set of skills that make for an interesting and fun listen. We have posts and guards, rebounders and three-point shooters. We have NCAA tournament locks and ones that will need to win their conference tournament to advance. The common denominator though is that each chose to play ball in a mid-major conference, and did it because they wanted to.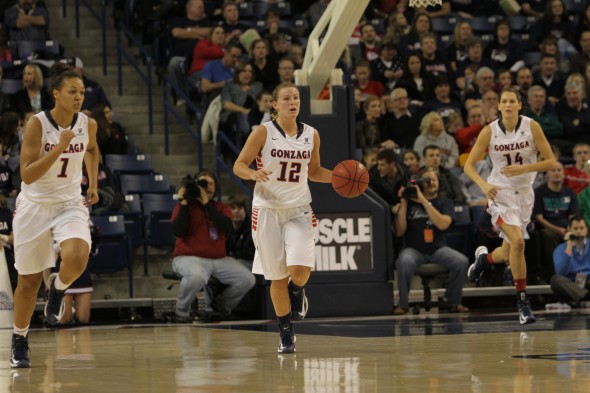 The Dayton Flyers have reached the highest AP and Coaches Poll rankings in the history of the program, No. 12 this week in both polls. Dayton is a total team effort. In fact despite one loss all season, only twice this season has one of the Flyers won Atlantic 10 player of the week, none since the first week in December.
Along with leading scorer Andrea Hoover, one of the reasons for their success has been the rise of sophomore forward Ally Malott. The first McDonald's All-American to go to Dayton, Malott's versatility has been integral to the team's success on both ends of the court. Currently she is second on the team in scoring (behind Hoover) and first in rebounding, but at 6-foot-4 she is also a three-point threat. Malott chose Dayton over schools like Notre Dame, and has the Flyers ready for a deep post-season run.
Gonzaga is a BCS school in a mid-major conference. They have their own plane for travel, do everything the way a BCS school would, but play in the West Coast Conference. Recently the Bulldogs clinched their ninth consecutive regular season conference title, especially sweet because they were not the preseason favorite. They beat that team, Brigham Young, to not only clinch the title, but also to give coach Kelly Graves his 350th career victory.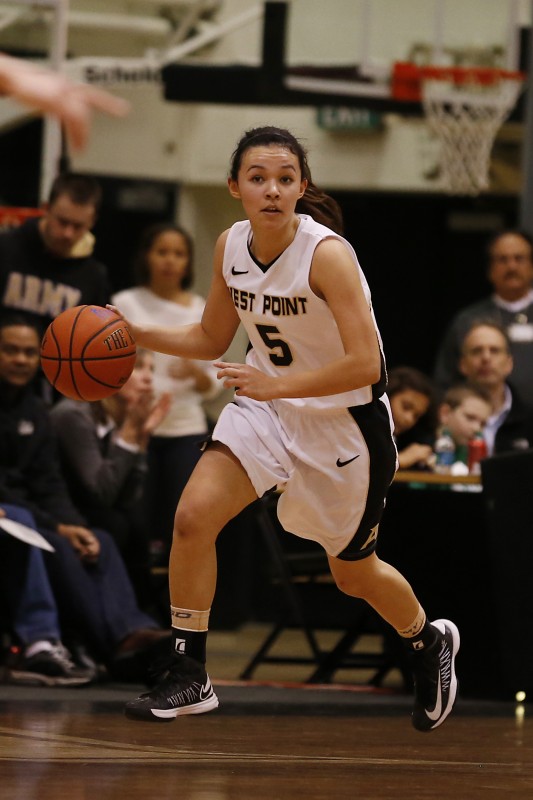 Taelor Karr transferred from Kansas State in the Big 12 to Gonzaga. The WCC Player of the Month for January, Karr is a three-point shooting machine, currently number five in the country in three-point field goal percentage. Along with teammate Haiden Palmer, Karr helps Gonzaga be, as usual, a team not to look past in the tournament.
Can you imagine being a freshman at West Point? Having to not only adjust to college life, but military life as well? Exchanging Huntington Beach, California for upstate New York weather? Now add to that starting every game on the basketball team too, and you have the life of Kelsey Minato, a 5-foot-8 guard who has been an impact player for the Black Knights in the Patriot League. Army has three seniors, one junior, five sophomores, and seven freshman, yet they have come together to vye for the Patriot League regular season title, currently sitting second to arch-rival Navy, who they defeated twice this season.
Minato is leading the conference in scoring (conference games only) at 16.3 point per game, and has a 12-game double-digit scoring streak. She is currently third all-time on Army's freshman scoring list, and has won Patriot League Rookie of the Week seven times. It is fascinating to listen to Minato's daily routine and schedule and adjusting to West Point, as Army works toward their first NCAA tournament berth since Maggie Dixon's storied run.
A pair of Blue Jays out of Omaha, Nebraska wraps up the podcast. In his Q&A session, Graham Hays frequently mentioned Creighton. Known previously for success of the men's program and in baseball, the women's team has been extremely strong this year, with a 20-6 record, second in the Missouri Valley Conference behind Wichita State, but with a great chance to win the regular season title based on remaining schedules. Earlier this season they stunned top 25 ranked Nebraska in an intrastate battle, and took Minnesota to double overtime.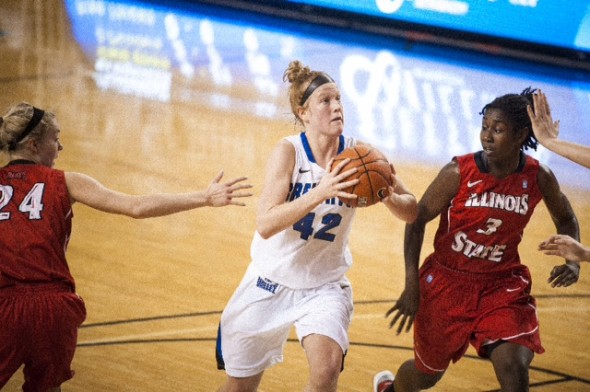 The inside-outside leaders of the team are undersized post Sarah Nelson and sharp shooting guard Marissa Janning, who both join the podcast to talk about the season. Local girl Nelson, a junior, is second on the team in scoring and leads in rebounding, but her passing ability is a key to her success. She is number forty in the country in assist-turnover ratio at 1.92 per game, number one among post players. As a comparison, Connecticut's Stefanie Dolson is considered a great passer, and she is only 95th in the country.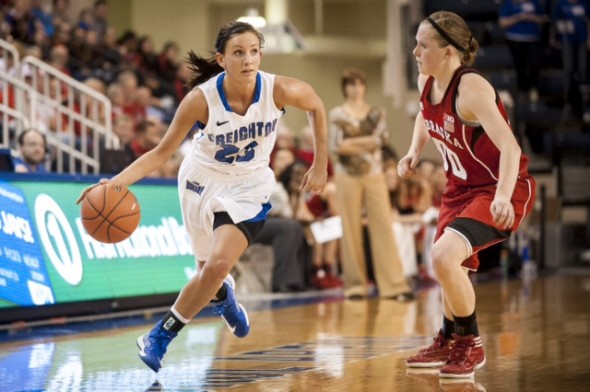 Freshman Janning is from Minnesota, and is three-time winner of the MVC newcomer of the week award. On a streak of nine straight double-figure games, she is currently the top ranked freshman in the country in three-point field goal percentage, number eleven overall. Great friends, it is always fun to have teammates on the podcast together, and it is easy to hear the bond that helps make Creighton dangerous.
To summarize, four segments with five fantastic student athletes from various parts of the country this week, as we celebrate the mid-majors. They play in Dayton, Spokane, West Point, and Omaha, but they all have the same goal, a berth in the NCAA tournament, and the respect it carries.
Enjoy the podcast, and do not forget to check out the Dishin & Swishin Q & A session with Graham Hays!