The first Dishin & Swishin Q&A Session looks at mid-majors with Graham Hays of ESPN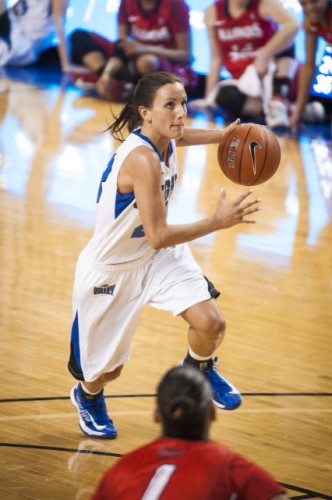 This week's Dishin & Swishin podcast gives you a look at just a few of the talented players from mid-major programs, giving you insight into their careers and lives playing ball for a school a little bit smaller than the BCS ones that dominate the polls.
Each year there are a few breakthrough mid-major stories, be it Dayton attacking the Top 10 or Elena Delle Donne of Delaware chasing All-American and year-end awards.
There is virtually no person around that knows the mid-majors like ESPN writer Graham Hays. Hays has taken on the mid-majors as a labor of love, each week publishing his own "Mid-Major Poll" of top teams, and also writing about some of the teams and individuals. In many ways it is these stories that make women's college basketball great.
As a companion to this week's podcast, we are pleased to try something new. Hays was nice enough to participate in what we are going to call a "Dishin & Swishin Q & A Session," shedding some more light on the mid-majors that are worthy of more attention as we head into March Madness.
Graham, thank you for taking the time to discuss mid-major basketball! Your weekly mid-major poll, how do you go about compiling it? What are some of the important criteria?

I'd describe it as a thorough and thoroughly unscientific (i.e. flawed) process. I spend way too many hours obsessing over the order, and I'll let you know if I ever feel like I got it right. The single most important criteria is the body of work, which obviously is more immediately at play in the first half of the season. I look for a team to give me a baseline for comparison. Creighton is going to get a lot more leeway for one bad weekend on the road in the Missouri Valley than a team like Albany would for a conference loss because I've seen Creighton beat Nebraska, South Florida and BYU. Similarly, I try to guard against teams moving up solely because they keep winning games in which they aren't challenged. Once conference play begins, I wouldn't say a margin of victory or style points are important, but it's only natural to try to gauge how efficiently teams are taking care of business.
And I do try to watch every team under consideration as many times as possible, which makes for an interesting tour of the wide differences in production value for those online games. (Kudos, as I've said before, to the Horizon League, which aggregates streams for basically every conference game for free from one centralized site. Why more leagues that need exposure don't follow suit is beyond me).
Is this the year a mid-major breaks through to the Final Four? Who has best chance?
I don't see it happening this season, but the wild card is Delaware. If the Blue Hens win out, and the game against James Madison this past weekend showed why that's not a given in the CAA, they should be looking at anything between a No. 4 and No. 6 seed in the NCAA tournament. That gives them two games at home they can win without needing a monumental upset to get to the Sweet 16. At that point, you hope Elena Delle Donne can do something magical for one weekend and maybe an upset elsewhere helps ease the path (although I suppose there is also a case to be made that if they have to beat a number 1 or number 2 somewhere along the line, the best shot would come at home in the second round as a lower seed). Between Delle Donne and the defense, Delaware is a Top 10 team in my mind, right where it was ranked in the preseason. But major or mid-major, it's going to be a big ask for any team outside that top five or six to get to New Orleans.
The focus on Delle Donne, has it done anything to enhance the status of mid-majors?
Probably not to any great degree, honestly. I think everyone intuitively understands this is a special case, a player that every major in the country wanted out of high school who ended up at a mid-major because of unique circumstances. Nobody is going to be able to copy the Delaware model. That said, if people pivot off of talking about Delle Donne to talk about other mid-majors, the focus on her you mention may have helped bring at least a little more attention to the larger group. And perhaps the deeper Delaware goes in the tournament, the more that's the case.
I've always said Sales was UConn's biggest recruit, because she was the first huge HS prospect to stay home and it led to more. Delle Donne has not improved subsequent recruiting classes, why is that?

That's a tricky comparison, in that Connecticut was already a Big East program, and a program with a Final Four appearance and momentum under Geno Auriemma, before Sales signed. And Connecticut promptly won a national championship, which surely also helped recruiting. I think the Delaware situation is more analogous to Jackie Stiles at Southwest Missouri State. SMS was a good program before Stiles, even making a Final Four, but it was competing in the same general recruiting territory as Big 12 programs (as Delaware is against ACC and Big East teams). By the time people nationally got to see Stiles during the 2001 tournament run, the window on recruiting to her had closed. For all the attention on Delle Donne in the past few seasons, it's still largely a word-of-mouth thing, like Stiles. And I would venture that sustained national television exposure and postseason runs do more for recruiting than a lot of words from people like you and me.
It seems there is a revolving door of successful years followed by down years (i.e. St Bonaventure) for many mid-majors, but some always are there. Marist, Gonzaga, Green Bay, Dayton…what makes a successful mid-major?

That's a question that might require chapters to answer. But I guess the short answer would be a commitment to a recruiting philosophy, a commitment to a playing philosophy, continuity and the requisite dose of good fortune. It's not a coincidence that the four programs you mention have had very little coaching turnover during their runs (basically Borseth to Bollant and back to Borseth at Green Bay). You also ask about a recipe for creating a successful mid-major, and I think recipe is the right word. If you're a chef creating a recipe in the Pacific Northwest, it makes sense to work with a lot of salmon and Dungeness crab. If you're in Green Bay that probably isn't the way you want to go. I don't want to deify the coaches involved — they'll be the first to tell you it's the players who win the games — but understanding your surroundings seems like the unifying principle to mid-major success.
Gonzaga doesn't play or recruit like Marist. Marist doesn't play like Green Bay. Heck, Green Bay this season doesn't play like Green Bay last season. But whether they play fast or slow, win with offense and defense, pick off top-100 recruits against major programs or look for undersized and undervalued recruits, they all go for quality kids who fit a plan. Every program would love the No. 1 recruit, but sometimes the No. 200 recruit makes more sense for you than the No. 100 recruit. The plan doesn't have to stay the same forever; Princeton is a great example of tweaking things to fit the personnel — but there is a plan.
Marist's Brian Giorgis is nationally recognized as a great coach. Who are some of the others mid-major coaches people should know?
There are a lot of them. My hunch is some school with deep pockets is going to make Princeton's Courtney Banghart an offer she can't refuse in the next couple of years, but to me, she's as good a young coach as there is anywhere. Jim Flanery has been doing it superbly for a number of years at Creighton. Jennifer Rizzotti always gets a lot out of the talent at Hartford. And beyond the names you mentioned in earlier questions, I'd add Florida Gulf Coast's Karl Smesko, James Madison's Kenny Brooks, UCSB's Carlene Mitchell, Toledo's Tricia Cullop and South Dakota State's Aaron Johnston. St. Bonaventure is going through a rebuilding year, to be sure, but Jim Crowley is really good coach. And Middle Tennessee State's Rick Insell is an institution all his own. That's a very partial list.
Two on the rise for opposite reasons seem to be the defensive minded Albany and offensive minded Florida Gulf Coast. Are these programs around for the long haul?
It depends on the coaching, either the current coach staying or finding the right successor if they don't. I don't know that either is going to become a self-sustaining power. In both cases, you're really talking about low-major leagues, which makes sustaining a national presence more challenging (although Brian Giorgis has done it for years). Just in terms of a recruiting base, Florida Gulf Coast seems the more likely of the two.
The writers and coaches seem to continually vote the fifth and sixth placed BCS conference teams into the bottom of the polls. Why is it in this day of Internet viewing teams like Florida Gulf Coast, Creighton and Albany can't get votes? Until they start getting poll votes are mid-major teams destined to fill seeds 11-16 and early elimination?

I make my share of snarky comments about that phenomenon, but I generally understand. First, there are people who believe going .500 in a conference like the ACC or Big East is a more impressive achievement than going 15-1 in a mid-major league, and there is a valid argument to make there in some cases. Second, as you suggest, it is much easier to watch mid-major teams — but that doesn't mean it's easy. A lot of those web streams are gated, and a lot of the schools in question don't have accounts set up for voters who are even interested in getting a closer look at a team. If you can't see Albany, it's difficult to ask you to compare them to Iowa State or Syracuse or Washington. Maybe voters don't see those specific teams frequently, but they see their peers and talk to teams that have played them. Familiarity is a crutch, but it's also a reasonable tool to rely on. I'd vote for Chattanooga; I understand why more people vote for Iowa State.
Which teams have impressed you, regardless of ranking, in a way you think they could win that one game in the tourney that is a bracket buster?
Middle Tennessee State has bounced all over the mid-major rankings with some up-and-down performances in the Sun Belt, but I still think that team's best day could be good enough to beat just about anyone but a top-two or top-three seed in the NCAA tournament, if the Blue Raiders make it. I'll mention Creighton again because of the 3-point shooting. If they make the tournament and get hot against a better seed that isn't particularly athletic on the perimeter, that's an upset waiting to happen. Hampton is out of luck if it gets stuck with a No. 15 or No. 16 seed again, but I'd love to see that defense get a chance as a No. 13 or No. 14 seed.
Finally, how about sharing the names of a few players of interest not named Delle Donne viewers should keep an eye on?
I think you have a few good ones on your podcast this week to talk to in Ally Malott (Dayton) and Kelsey Minato (Army), and I'd also add two of their teammates: Dayton's Andrea Hoover and Army's Aimee Oertner, an athletic forward sort of in the mold of former Gonzaga standout Kayla Standish. Princeton's Niveen Rasheed is deservedly making a lot of the award midseason watch lists, and people seem to appreciate her game at this point. Miami (Ohio)'s Courtney Osborn just got to 2,000 career points and is having a terrific senior season, but another good one in the MAC, Toledo's Naama Shafir, is going to make it difficult for Osborn to get to the NCAA tournament. It's a shame, but a lot of the seniors who have been fun to watch are going to have a tough time making the tournament — players like Hofstra's Shante Evans, BYU's Haley Steed, Northern Iowa's Jacqui Kalin, Oral Roberts' Kevi Luper and Central Arkansas' Megan Herbert.