Uneven performance defines season for Connecticut as they defeat Pittsburgh in home regular season finale, 76-36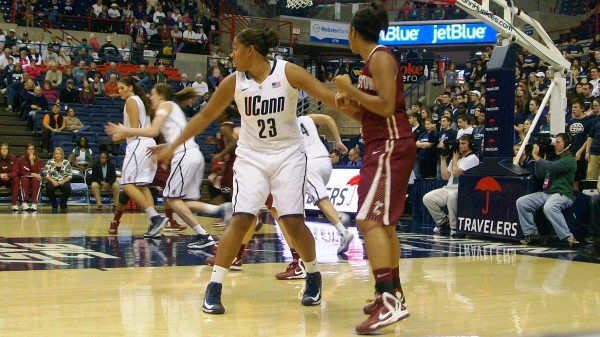 STORRS, Conn. – The Connecticut Huskies concluded the home portion of their regular season last night with a 76-36 drubbing of the Pittsburgh Panthers. Although the outcome of the game was never in doubt, in many ways the game was a microcosm of the Huskies' season, a bit bumpy and inconsistent, impressive in other ways, all ending with large margins of victory.
Easily the most positive development of the season is the improved game of Kaleena Mosqueda-Lewis. She continued to be the brightest spot, playing a full forty minutes, earning her third double-double of the season with 19 points and 13 rebounds, along with five assists. Postgame, Mosqueda-Lewis explained which of those three numbers meant the most to her.
"Rebounding," she said without hesitation, "because coach has been emphasizing it and I've been trying so hard to get better at it, and be more consistent. Coach Shea (Ralph) has been challenging me and Kelly (Faris) telling us 'you guys have got to go after every rebound.' She has made it a competition between me and Kelly to see who gets more rebounds in a game."
While Mosqueda-Lewis won that competition against Pitt, once again Faris the "stat stuffer" filled the box score with great numbers, including 11 points, 9 rebounds, three assists and four steals.
Junior center Stefanie Dolson also put up solid numbers, with 14 points and seven rebounds, but that could have been enhanced by making some easy shots she missed early on, when the Huskies started the game by missing seven of the first eight shots before settling down.
Periods of inconsistency on the offensive end have been part of the story this season, including uneven performances from guards Bria Hartley and Caroline Doty as well as freshman post Breanna Stewart.
The season started with great anticipation for the debut of Stewart, the high school player of the year, but inconsistency and a seeming lack of confidence seemed to impact the middle of the season after a strong start. The Huskies have made a big effort to get her back on track, and if the last two games are an indication, it may be working. She had 15 points, nine rebounds, four impressive blocks, four assists and three steals against a Pitt team unable to handle her versatility.
"In the recent games she's gotten more comfortable at both ends of the floor," explained Auriemma, "she feels a lot better about herself now and hopefully that carries over into the weekend (games at South Florida and Notre Dame)."
An All-American last year, Hartley started the season nursing an injured ankle from playing in the 3×3 World Championships, so it was only fitting that on a night USA Basketball honored the Husky medalists that Hartley would continue to struggle, hitting only two-of-nine shots and missing all five three-point attempts. She did have six assists and only two turnovers, as Auriemma continues to put her on the court and hope she can get back her consistent success.
Hartley's injury is not the only to have hampered the Huskies this season, with Mosqueda-Lewis, Caroline Doty, Kiah Stokes, Brianna Banks, and Morgan Tuck all missing games at various times. Tonight, Doty and Tuck were limited to ten minutes or less due to soreness in their knee (Tuck) or general soreness (Doty). A team with only ten available with Banks out for the season with a torn ACL, the Huskies will need their nucleus healthy to succeed in the post-season.
"It wasn't the easiest of years, for sure," Auriemma lamented. "We have had to battle through an awful lot of things right from the beginning without Bria, and it's been an ongoing thing for five months. There's been maybe a week, maybe two, where everyone has been available to play, and that usually doesn't happen during the course of the season and then you lose Brianna Banks for the entire season. So it's just been one thing after another, and it's taken a lot of energy, taken a lot of emotion out of our team, but a lot of teams around the country go through these things, and there's nothing you can do about it."
The most consistent component of UConn success, however, never wavered, and that is the defense. They held Pitts to just over 26 percent shooting, and only 20 percent from behind the three-point line. They caused 18 turnovers, and pulled off 11 steals. Also, in part due to that battle between Faris and Mosqueda-Lewis, they dominated the boards, pulling down 49 total rebounds to 29 for Pitt, with 34 defensive rebounds and Pitt only getting seven offensive boards. If you get those defensive rebounds, you fuel the running game, which the Huskies execute so well.
For Pitt, this brings to an end the era of Big East basketball against Connecticut, barring stunning developments in the Big East tournament. The Panthers are a young, with no seniors, but the last few years have been very difficult ones for Agnus Berenato and her team. Still, Pitt played hard, and Berenato never stopped teaching and never stopped coaching, using her timeouts to try to keep her youngsters calm and address situations as they happened. Known for walking into the press room and introducing herself to any reporter she had not previously met, Berenato has always been a class act, and hopefully she will continue to try to build success for this team in the ACC next season.