A New Dishin & Swishin Q&A Session looks at the NCAA tournament & more with Rebecca Lobo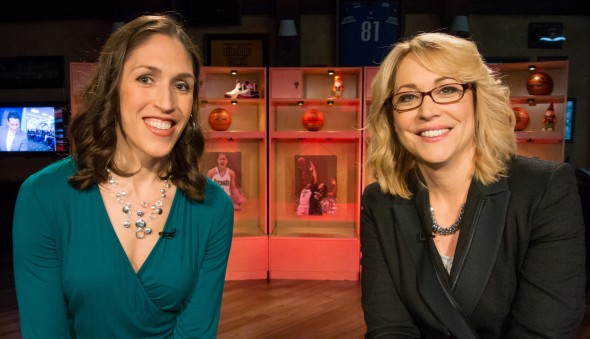 There are few out there that have the background to discuss women's basketball like Rebecca Lobo.
In her playing days, Lobo probably could have been governor of Connecticut, the way she monopolized the attention of the state. She has Olympic gold in her resume, and was one of the originals chosen to begin playing in the WNBA. Injuries shortened her playing career, but Lobo has put the work and dedication that forged her playing success into broadcasting, becoming one of ESPN's very best analysts. All of the latter success comes while raising a family, and becoming a coach vital to the success of her daughter's youth league team.
So it only seems natural that Rebecca Lobo should be the second participant in the new Dishin & Swishin Q&A sessions.
Rebecca, thank you for participating in this Q & A, especially considering how busy you are with the tournament. Starting with a look at some of the stars people will see in the tournament. What, in your opinion, is the difference between Brittney Griner and other players her size we have seen?

Her athletic ability sets her apart. We've never seen an athlete like her in a 6'8″ frame. She is also highly skilled, but her athletic ability is what separates her from every other big girl.
Setting Griner aside, who is the most important player in the tournament for their team's success?
Elena Delle Donne (Delaware), Chiney Ogwumike (Stanford) and Alyssa Thomas (Maryland) are vitally important for their teams.
Pure speculation, but do you think all of the attention on Delle Donne, and the success Delaware has had, has brought more focus on mid-majors for future years of recruiting, or do you anticipate a return to pre-Delle Donne days?

I anticipate a return to pre Delle Donne days. We actually talked to (Delaware coach) Tina Martin about this. She has gotten a lot of big name players on campus but said that those kids almost always end up going with teams in BCS conferences.

Breanna Stewart came in with ridiculously high expectations placed on her, including Geno's comments about her potential to be one of UConn's best ever. This is still an 18 year-old kid. In some ways, with all the expectations and coverage of the Huskies, etc. was she almost doomed to "fail" i.e. not meet those expectations this season? Would you have handled anything differently?
No, not doomed to fail and I wouldn't have handled things differently. She'll still be the player of the year by the time she is a senior. This is part of the process for her. Tina Charles wouldn't have been a national champion, Player of the Year, rookie/Player of the Year in the WNBA, if not for what she went through at UConn. That man (coach A) knows what he's doing.

Most WNBA ready: Griner, Skylar Diggins or Delle Donne? Why?
Griner. She'll still be the biggest, strongest, and most athletic player at her position when she's in the WNBA.
Brittney Griner should be unanimous player of the year, is Notre Dame's Muffet McGraw coach of the year?

Yes, but I would give serious consideration to Holly Warlick (Tennessee) for coach of the year too.
Which lower seed is the most underrated or overlooked college team in the tourney?
Albany. They've won 19 straight games. We'll see what happens today vs. North Carolina, but this is an Albany team that played Texas A&M close for 28 minutes last year in College Station. Could prove a big challenge as a 14-seed.
You were part of the real growth time of the Big East, thoughts on its demise?
Of course it is disappointing to see what has happened to the once-great Big East basketball conference. But I understand the changing landscape of college sports. I am eager to see what will happen to Uconn women's basketball in the near future. Will they help their new league become elite? If so, how long will it take?

WNBA has made a defensive three seconds rule adjustment with Griner coming in to the league. Thoughts? Also, most important rule changes the NCAA and/or WNBA game needs to make to grow?
The NCAA game needs the 10-second back court rule. I can't fathom why they don't have it. It would speed up the game and encourage more teams to press — which would hopefully increase scoring. I'm excited about the new rules in the WNBA. The extended three-point line and three-second defensive rule should open up the floor and encourage more scoring and freer play.

The Phoenix Mercury approach to luring male fans has gotten a lot of attention (giving away a ticket to any male that has not seen a game). I love it, I think it's great. What do you think?
It can't hurt. It's not like they are taking a ticket away from a paying person to give a free ticket to a guy. Instead, they are filling an otherwise empty seat. I think it's a great idea — and a fresh idea.
How do you balance being a mother to multiple kids and a national broadcasting career?
I limit my number of events. I only do women's college basketball and WNBA… which is about 45 events a year. If I did more games or had to keep track of multiple sports (like Doris Burke), it would be too difficult. My family does, and will always come first but I am very committed to doing my work well. To be able to do both, I have to keep my number of games a year at a certain level.
Would you ever consider coaching at the college or pro level?
No. It would take far too much time away from my family. I do love coaching my 2nd and 3rd-grade team though. I will continue to coach my kids' basketball teams , as long as they want me to!