Brittney Griner slam dunks Baylor into the second round of the NCAA tournament, Lady Bears rout Prairie View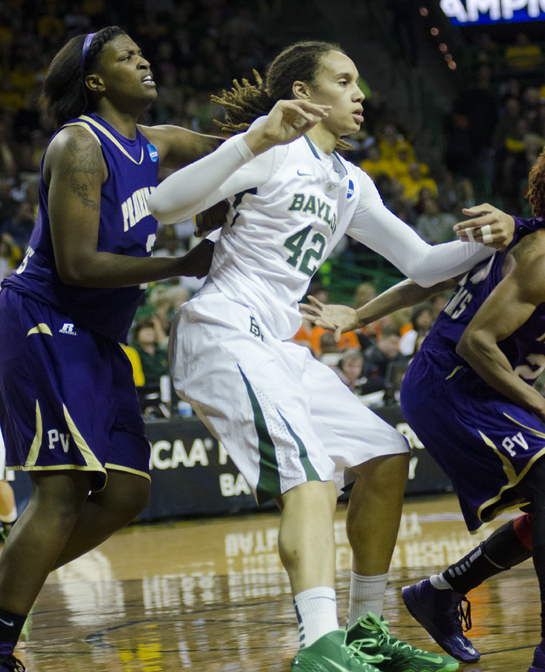 WACO, Texas – With a resounding dunk at 15:58 in the second half on the way to leading her team to an 82-40 win over Prairie View A&M (17-15), Baylor center Brittney Griner acquired fans on the opposing team. After indicating that her team specifically did not want Griner to dunk on them, PVAM sophomore guard Jeanette Jackson admitted they became admirers post slam along with the crowd of 9,540.
"It was a surprise for us that she came out and dunked on us," said Jackson. "That is what we did not want to have happen, but it was amazing. We got star struck."
The dunk came after a pass from point guard Odyssey Sims who thought she misfired.
"Well, I don't think that she knew I saw her because she was wide open," said Sims. "but I didn't think she was going to catch it because I threw it kind of low – I overthrew it, but I didn't think she was going to dunk it. It surprised me. It's always great to see when she dunks."
Griner's slam was a one-handed jam after she stepped back to the basket after rescuing the ball from going out of bounds. It the 15th of her career and third in NCAA tournament play.
Griner finished with 33 points, 10 rebounds and six blocks. She also set the Big 12 record for the most career free throws at 778 surpassing former Oklahoma State player Andrea Riley (776).
While Baylor (33-1) dominated much of the game, Prairie View did stay within striking distance early in the contest.
"For the first couple of minutes we were running with them and the gym was quiet," said senior guard Latia Williams. "It was silent, no fans were cheering or anything. We started believing in ourselves even more and started to run a little bit. We just didn't execute like we thought we could."
Baylor's lead swelled to more than 10 after a layup by Odyssey Sims at 7:20 in the first stanza. At the half the Lady Bears led 82-40. Baylor head coach Mulkey criticized her team's first half defense.
"I thought our defense was better in the second half," said Mulkey. "I thought it was much better after Brittney dunked it. I just thought it energized the whole arena. I challenged a couple of them in the locker room at halftime. It's been two weeks since we've played and I just thought we had some more to give. Then I thought they came out in the second half and did some things better on the defensive end of the floor."
The Lady Panthers failed to get the free throw line and consequently ended the game without shooting one free throw.
"I don't know that I've ever been a part of a game where the other team didn't shoot a free throw," said Mulkey. Baylor was 20-of-29 from the free throw line.
Prairie View's third straight trip to the tournament under head coach Toyelle Wilson ended in the same way as their previous trips. Each time they entered as a 16-seed facing a top seed.
They lost to Baylor in the first round two years ago in a 66-30 rout. Last year they faced Connecticut and lost 83-47.
However, Mulkey praised Prairie View coach Toyelle Wilson for earning a place in the tournament in straight years.
"If she didn't get a pay raise she needs to find another job," said Mulkey of Wilson. "She's been to the tournament three straight times."
"Baylor was just a lot bigger than us," said Wilson about the game. "They played like the number one overall seed in the tournament."
Baylor faces No. 8-seed Florida State Tuesday. The Seminoles defeated No. 9 Princeton in the day's first game.

Video