Connecticut rolls over Maryland 76-50 on way to Elite Eight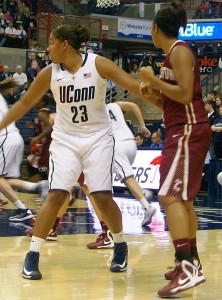 BRIDGEPORT, Conn. – With Stefanie Dolson nursing sore legs, the Connecticut Huskies turned to Kaleena Mosqueda-Lewis, Breanna Stewart and the bench in rolling to a 76-50 victory over Maryland.
Maryland played short-handed-all season with injuries to their backcourt. Today UConn's bench was dominant, outscoring the Terps bench 23-0. Moriah Jefferson had 10 points, Morgan Tuck six, Bria Hartley five, and Kiah Stokes two.
Mosqueda-Lewis led  UConn with 17 points, and Stewart had 15 points and eight rebounds. Dolson, still contributed nine points and ten rebounds despite the injuries.
Alyssa Thomas led Maryland with 13 points, and Tianna Hawkins and Chloe Pavlech had 11 each.
Connecticut plays Kentucky on Monday night in the elite eight at 7:30 p.m. ET.