Kentucky stops Delaware 69-62 to advance to Elite Eight in Bridgeport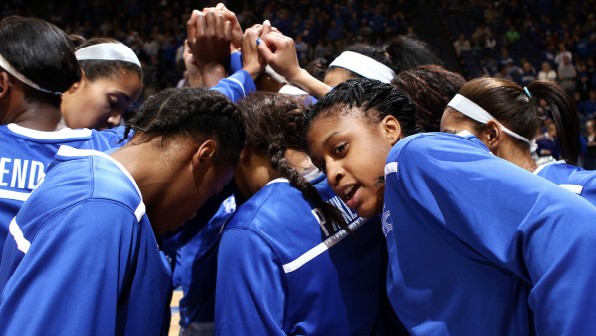 BRIDGEPORT, Connecticut – A crowd that included New Jersey Governor and Delaware alumnus Chris Christie came to see the run of sixth-seeded Delaware to a possible championship. Instead, they saw Kentucky's 40 minutes of dread defense wear out the Blue Hens en route to a69-62 victory.
Delaware star forward Elena Delle Donne got her points, 33 for the third consecutive game, but the rest of the Blue Hens were held to 10-for-30 shooting for the game. Delle Donne added nine rebounds as well.
Kentucky guards Jennifer O'Neill and A'dia Mathies controlled things in the first half, with Mathies getting a surprising six offensive rebounds in that time. In the first half Kentucky had 13 offensive rebounds and led 41-27 at the break.
Delaware came out in a man-to man defense in the second half to neutralize the rebounding deficit in the first half, and it worked incredibly well. Delaware had only 11 rebounds in the first half, but finished with 40. They outrebounded the Wildcats 29-11 in the second half.
The Wildcats used their defense to make Delaware work hard on every possession, especially Delle Donne, using the size of Samarie Walker and the quickness of Mathies to upset her rhythm.
According to Delaware head coach Tina Martin, the play of the game came with 2:21 left in the second half, when Kentucky's Kastine Evans nailed a three-pointer, turning a two point lead into a five point lead the Hens could not overcome.
Martin focused on the off-the-court qualities of her seven seniors in the postgame, talking about how proud she was of their academic and other successes as much as their basketball success.
That said, Delle Donne passed Cheryl Miller, Chamique Holdsclaw and Maya Moore on the career scoring list with 3,039 points in her collegiate time. She will be nearly impossible to replace, especially at a mid-major like Delaware