Making the Final Four never gets old for Connecticut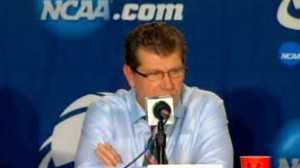 Six straight years the Connecticut Huskies have earned a trip to the Final Four. The challenge is different each time, and the feeling "doesn't get old" according to senior Kelly Faris and the rest of the Huskies.
"Each year is different and special for us seniors," said Faris. "This is it for us, our last go around. We want to go out with a bang. We're not satisfied until the final game."
"It feels amazing," yelled freshman Moriah Jefferson in the locker room. "It felt great, we came out as a team through the whole tournament and any time you can do that, especially during a game like this, it's going to be great."
Jefferson continued that anything less than a Final Four would be a disappointment.
"We expect it," she said, "that's why you come to UConn."
Senior Heather Buck, along with Caroline Doty, are now going to their fifth Final Four. When asked if it gets old she emphatically answered, "not at all!"
"You come here because that expectation is there," said Buck while playing Uno with teammates. "When you believe it, it happens."
Buck expressed appreciation for the crowd acknowledging her in her final game in Connecticut. "It was really nice, we were trying to make a little more happen, but it didn't work out, Kentucky didn't cooperate."
Junior Bria Hartley did not want to look ahead to Final Four matchups, saying "right now we are all really excited and we are going to enjoy this minute. Then we are going to focus and we realize we still have a game to play."
Former Husky and current ESPN commentator Rebecca Lobo mentioned that she hoped the fans in the state of Connecticut appreciated the success of coach Geno Auriemma, and did not take it for granted.
"I just hope the UConn fans understand how fortunate they are to have him guiding their team," commented Lobo. "I would have loved to be around coach Wooden and the UCLA dynasties. The UConn Huskies are the equivalent of that on the women's side and I hope the fans understand that. Coach Auriemma is one of the all-time special coaches in basketball. He should never be taken for granted."
He has the Huskies dancing in New Orleans once again.