UConn overcomes slow start to blow out Kentucky 83-53 and advance to New Orleans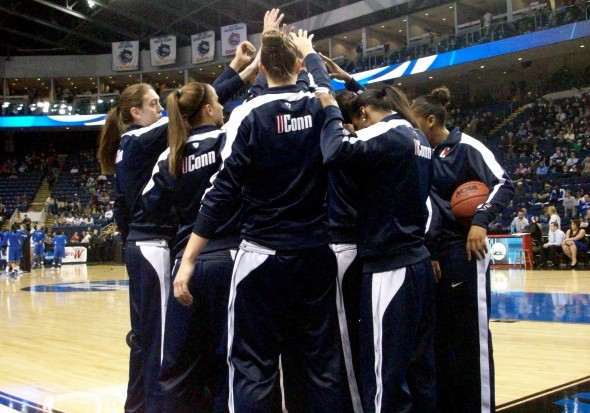 BRIDGEPORT, Conn. – It had all the makings of a potential classic: top-seeded Connecticut (33-4) taking on second-seeded Kentucky with a trip to New Orleans on the line. However, the Huskies did not cooperate. Trailing 23-22 with nine minutes left in the first half, UConn went on a 26-3 run to blow open the game and go on to a 83-53 victory. Breanna Stewart's eleven points fueled the run aided by Stefanie Dolson's six rebounds and two assists during that time.
Kentucky (30-5) went ice cold from the floor, hitting only three of their last 19 shots. UConn led at the half 48-26.
Kentucky needed to go on scoring runs to start the second half, but instead Connecticut countered each Wildcats basket with a mini-run.
Kentucky's A'dia Mathies hit a three to start the half, but by the 11-minute mark, UConn had extended the lead to 61-35. The rest of the half continued in a similar fashion, with the lead gradually expanding to over 30 points.
UConn's height and depth at the post position limited Kentucky's ability to score in the paint and the Wildcats' outside shots would not drop with any regularity. Kentucky did go on a run fueled by Mathies with about five minutes to go to bring the margin under 30. Mathies finished with 14.
Mosqueda-Lewis and Stewart continued to build on their success. Stewart finished with 21 points, and Mosqueda-Lewis had 17. Senior Kelly Faris received a standing ovation as she left with a typical Faris line of 12 points and seven rebounds. Stewart gave the game its exclamation point with an emphatic block in the final minute of play. Moriah Jefferson contributed 10 points as well.
All Regional Team
Kaleena Mosqueda-Lewis (UConn)
Kelly Faris (UConn)
Elena Delle Donne (Delaware)
Jennifer O'Neill (Kentucky)
Breanna Stewart (UConn), Most Outstanding Player