WNBA President Richie bullish on new season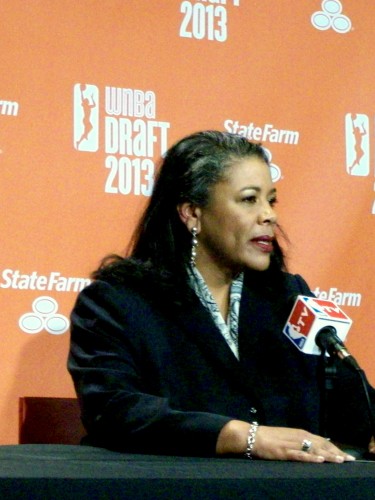 BRISTOL, Conn. – Prior to the 2013 WNBA Draft, president Laurel Richie addressed the media, expressing a "bullish" attitude toward the rebranded WNBA product.
After mentioning there were brief discussions about canceling the event because of the tragedy in Boston, Richie turned to the 2013 season.
"We are excited about our 2013 season," Richie began,"it started at ESPN for the first time ever…and I think that was a statement about the excitement for this class."
Richie did not seem concerned that the league has previously pushed rookies in prior years including Diana Taurasi, Candace Parker, and Maya Moore. She emphasized the focus is not on Brittney Griner, Elena Delle Donne, or Skylar Diggins "saving the league."
"I would not at all categorize it as three rookies who are going to save the league," Richie stated. "I would categorize it as three phenomenal players entering into a league that has more than a handful of phenomenal players. To me, it is an additive thing, and that said, I don't think anyone would argue that Brittney Griner is unlike any other athlete we have seen, at least for a very long time."
"The players do their job on the court," she continued, "and I'm excited to see these three on the court, and then there are a whole host of other things, that happen to continue the league and continue to make sure we're growing in the way we want to grow."
The Indiana Fever's Tamika Catchings talked to the incoming class this weekend and left them with a strong commentary on not just being drafted but earning a roster spot according to Richie.
"'You may be drafted,' Tamika said,' but you still have to earn a spot on the roster. It was very clear her intent to hang on to her spot."