A Dishin & Swishin Q&A Session: Tina Charles finds success on and off the court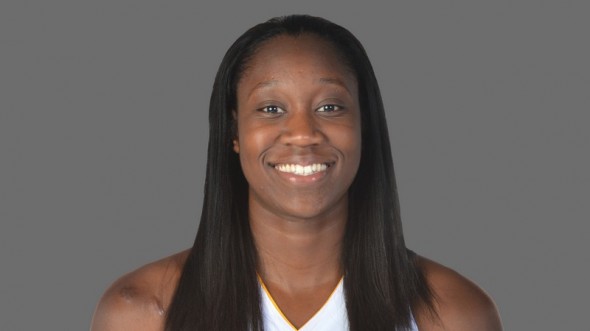 Throughout the WNBA season, Hoopfeed will be giving you Dishin & Swishin Q & A Sessions to supplement our weekly podcasts. Who better to start with than the defending Most Valuable Player of the league, Tina Charles.
Charles is only 24 years old yet her resume already includes not only the MVP award but also NCAA champion, WNBA rookie of the year and Olympic gold medalist.
After averaging 18 points and 10 rebounds per game last season for the Connecticut Sun, Charles is looking to build on her success by adding "WNBA champion" to that list of honors. The Sun went into the playoffs last year as the top seed in the East, but ran into the Indiana Fever juggernaut that won the WNBA title last season. Dropping their final game in convincing fashion on their own court left Charles even more motivated than before and she is anxious for the season to begin.
Charles has always been a quiet leader on the court and in the locker room. As she has matured she has become a philanthropist as well. Last season she donated funds to build a school in Africa. Now, Charles has found a true passion and platform for her generosity, the Tina Charles Hearts of Hope foundation, which seeks to give automatic external defibrillators to schools and recreation centers.
Tina it's a new year and a new coaching staff. Last year, when you won the most valuable player award, you gave a lot of credit to coach Mike Thibault. Anne Donovan is here now, and is known as a post-coach, so what's different? What are you seeing that is a different set up thus far?
"She's really direct about what she wants out of the players and her expectations in a clear, channeling way. I know the girls love her; I don't think there are any complaints. I know Kara [Lawson] played for her in the Olympics and Kaleena [Greene] did her rookie year with New York and had said nothing but positive things. So that helps me coming in."
Asjha [Jones] is not going to be here and obviously that makes a big difference. You played a lot of games without her last year, but how does that translate to you in terms of preparation for this season knowing she will not be here at all?
"I'm going to go out there still and do what I usually do, just be more efficient, more consistent. Somebody will step up I have no doubt in my mind, because she [Jones] didn't come back after the Olympics and somebody stepped up then, so I'm sure they will do it again."
The WNBA made these changes to the rules and all we heard about at first was the defensive three seconds was because of Brittney Griner's size, but all I thought about was the impact on you; you were doubled and tripled last season. What do you expect to see from the rule changes?
"I'm looking forward to. It's going to be a change. I haven't practiced much yet so just defensively I'm going to have to think about getting in and out of the lane, but I'm looking forward to it. I think it's going to show everybody's skill and I think it's definitely going to expose people on the defensive end, especially guards. Also, moving the three-point line is going to expose who the real three-point shooters are. It's going to be fun. It's going to be a great year!"
You come in as the defending MVP. Do you put pressure on yourself to build off of that, defending that MVP title?
"Yeah I don't worry about that. Like I've said the whole MVP thing is up to people not on the court so I'm just going to go out there and do what I normally do and I'm just going to try to do it better."
So Kelly [Faris] comes in as an addition. You lose one Husky and gain another. You played with her at UConn, what do you expect from her as a rookie and what can be the most difficult adjustment that you guys have to help her through?
"Just knowing that as a rookie when you come in your role changes. That's the thing that gets a lot of rookies. Sometimes they think, 'oh I'm not playing,' but know your role changes. You have a different team now. You have to adjust. You have to continue to be coachable. For any rookie I would tell them just focus on one thing and do that one thing well. That will help you make the team, that's what will keep you around in this league. With Kelly, Kelly's really good at being a team player and doing whatever it takes for her team to win."
You've never been a real vocal, out in the public type person, but your activities off the court have been speaking volumes. First, you build the school in Africa and now the creation of the Tina Charles Heart of Hope foundation. Can you talk for a minute about the foundation and what it means to you?
"The foundation's mission is to provide automatic external defibrillators, AEDs, to schools and recreation centers across the United States, especially for places that don't have them. I got inspired by reading an article about Wes Leonard, a high school player out of Michigan. State law in Michigan does not require AEDs and he was struck by sudden cardiac arrest while playing and passed away because the school didn't have one. So his parents started a foundation and I donated five AEDs to that foundation and being from New York I donated five AEDs to the New York Department of Education. In New York the law is there. My aunt, Maureen Vaz, passed away March on March 9, 2013. Her nickname was Hopey and that's why the foundation is Hearts of Hope because it is trying to mirror all of her actions, in the type of person she was and just how she was able to impact people's lives. That's what I'm trying to do with this foundation, impact people and save people's lives and I hope to do so throughout the years."
With the changes in the East, the new players the new coaches what does the Connecticut Sun have to do this season to remain an elite team at the top of the conference?
"The team gets better when an individual gets better. If everybody takes their role more seriously, they take it more personally; I believe that we will be better. Everybody just has to up their game a notch, and do it consistently, and we will be fine."