Dishin & Swishin 5/16/13 Podcast: Connecticut Sun looks to improve on last year's finish but faces big decisions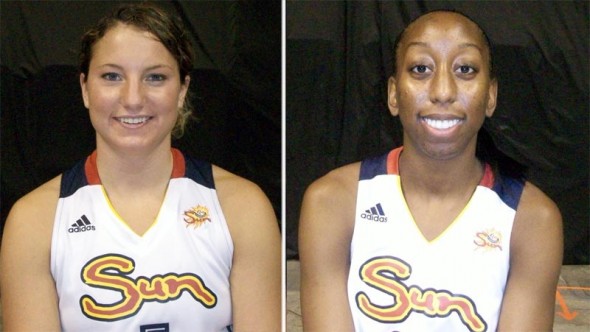 [display_podcast]
A benefit of living in Connecticut is that I get the privilege of covering both the University of Connecticut women's basketball program and the WNBA's Connecticut Sun. Not very many places have two programs that seem to be close to a championship each year. One of the differences between the two teams is that while UConn has won eight for head coach Geno Auriemma, the Sun is still chasing the elusive first one.
New Sun head coach Anne Donovan has a strong squad, but there are definitely a few question marks as well. In this podcast we are going to talk about both.
Tina Charles was last year's WNBA Most Valuable Player, but it can be argued that the strength of the team was the backcourt, in particular starters Kara Lawson and Allison Hightower, and sixth-woman award winner Renee Montgomery. Both Lawson and Hightower are coming off what could be considered career years for each. They seem to play off each other's strengths very well. Montgomery's ability to come off the bench and fill either guard position makes her equally important. In the first part of this podcast, I talked to Lawson and Hightower together, covering the new coaching staff and rules, the growth and improvements needed for the Sun and the "three to see" entering the league.
When Asjha Jones decided to sit out the season to rest injuries, Donovan suddenly had a new area of concern, the power forward position. There is no shortage of candidates ready to take Jones' minutes, but can they match the production? That is the focus of the rest of this podcast.
Mistie Bass filled the spot when Jones missed 20 games last season, and she too had the best season of her WNBA career. Bass came to the team under former head coach Mike Thibault with certain promises that he fulfilled, and she rewarded him with strong play. What will the new season bring for her? Bass is next up in the podcast, discussing her love for playing in France and her personal growth, the Thibault/Donovan change and its impact on her, and the Sun's weaknesses that need to be corrected.
Kelsey Griffin is Bass' prime competitor for time. Griffin has struggled in her tenure with the Sun, in part due to her being moved between positions and roles, and in part by a perceived lack of confidence. On the heels of an award-winning season in Australia, a more relaxed and confident Griffin seems to be a completely different person, and is excited to show that on the court. Griffin in her segment of the podcast discusses the difference between her prior years in Connecticut and this one, the piece of mind she now has, and how that has translated to on court improvement, and where she feels the problems in her career came from and what caused them.
Three free agent invitees are fighting for probably only one roster spot and for a chance at that power forward spot. Ashley Walker from Cal is the most well known of the three, narrowly missing a roster spot on a few occasions. Latoya Williams is a slight post with a long reach who never played above junior college, but has played internationally. Finally, there is recent St. Joseph's product Chatilla van Grinsven, the 2013 Philadelphia Big 5 Player of the Year. Walker is on the podcast. Williams and van Grinsven follow Griffin, and share what their initial thoughts on the WNBA and training camp have been, and how they each feel their game will translate to the league.
So this week we delve into a few important pieces that will be called upon to keep the Connecticut Sun in the hunt in the East: Kara Lawson and Allison Hightower will need to replicate last year's success, Mistie Bass and Kelsey Griffin will need to fill an important role, and Latoya Williams and/or Chatilla van Grinsven will need to help out as well.
Next week, the WNBA preview roundtable returns in a special two-part Dishin & Swishin! Enjoy he podcast!