Dishin & Swishin 6/13/13 Podcast: Candice Wiggins starts fresh in Tulsa and we dish with the AP's Doug Feinberg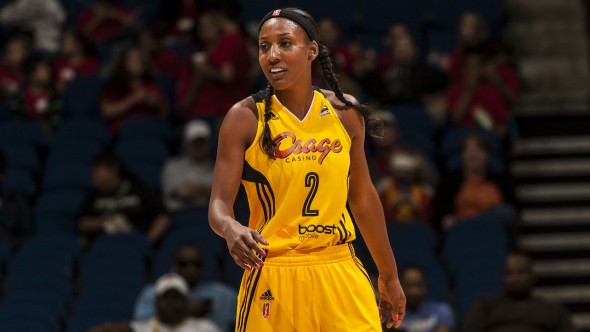 [display_podcast]
It is hard to believe that it was six seasons ago that Candice Wiggins, the Wade Trophy winner, was drafted number three after Candace Parker and Sylvia Fowles in the WNBA draft by the Minnesota Lynx.
A career that started full of promise, including All-Rookie selection and Sixth Women of the Year that first season, has not blossomed the way many anticipated. The Lynx had Seimone Augustus to be their starting shooting guard, keeping Wiggins as an energy player off the bench instead of a starter. She developed into a strong defensive and offensive presence until a ruptured Achilles tendon sidelined her for most of the 2010 season.
Wiggins continued to come off the bench in 2011 and 2012, willingly playing the sixth woman role, but with the addition of Monica Wright to the Lynx rotation, something had to give. This past off-season the Lynx sent Wiggins to the Tulsa Shock where head coach Gary Kloppenburg is building a young, aggressive and defensive-minded team. Wiggins is one of the leaders Kloppenburg sought for his Shock: a player that wants a chance, but has proven championship experience.
The Shock have won only once in six games this year, but five of those games have been on the road, and two went to overtime. The team seems to be close to turning a corner and hopes that a home stand starting Friday against Wiggins' former team the Lynx will get them on a roll.
Paired with rookie point guard Skylar Diggins, coincidentally Wiggins' good friend, the Shock have a dynamic backcourt to lead them forward.
Wiggins joins Dishin & Swishin to talk about her health, as she recovers from an ankle sprain from the first game, the opportunity before her, playing in Tulsa and with Diggins and more.
Dishin & Swishin follows the chat with Wiggins with the second installment of our Dishin with the roundtable guests about what has been going on around the basketball world. This week Doug Feinberg of the Associated Press is the guest. Topics include the slow starts of Indiana, Connecticut, Phoenix and the injury bug that seems to be biting the league. We also discuss the Epiphanny Prince to Russia saga, and June 11, a day that shall be forever linked to basketball glory with its birthdays.
Enjoy the podcast!