Latta, Mystics defeat short-handed Sun in Mike Thibault's return to Connecticut, 66-62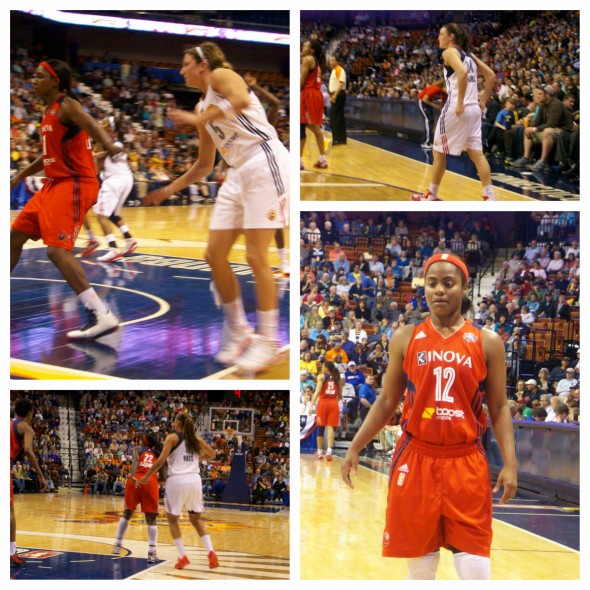 UNCASVILLE, Conn. – "It was just another road game," said Washington Mystics coach Mike Thibault after his current team, the Washington Mystics, defeated his former team, the Connecticut Sun in his return to Mohegan Sun Arena, 66-62.
The Mystics are now 2-1 on the young season and are a polar opposite from the team that struggled to the league's worst record last season. Only four players remain from that squad (Crystal Langhorne, Monique Currie, Michelle Snow, and Matee Ajavon), and Thibault is rebuilding around young veterans and rookies. None is more important than Ivory Latta, the point guard Thibault sought for his first acquisition.
In the fourth quarter, after struggling earlier, Latta turned it on with the Mystics down ten points, hitting back to back three pointers, clutch foul shots, and making good decisions on her was to a team high 17 points, along with seven rebounds, and three assists.
"I had to," Latta said, "because I knew this was a big game for coach, and I knew it was a big game for the organization. I was disappointed in the way I played the first few quarters, and I knew I just couldn't let that happen."
Already down Renee Montgomery and Tan White to injury, prior to the game Kara Lawson was scratched with a back injury that has her status as day-to-day. The Sun, now 1-3 on the season, were outscored 24-13 in the fourth quarter, when fatigue really appeared to come into play.
"I'm really very proud of the effort of the eight players that were able to go tonight," coach Anne Donovan said.
Known as a strong three-point shooting team when healthy, the Sun shot 1-for-6 for the game, and their lack of long-range shooters made it tough to get the ball to Tina Charles with the game on the line. Charles had been exceptional through three and one-half quarters, and finished with 21 points and 12 rebounds, along with four blocks.
"We're a perfect team right now to double team," Donovan said, "because we don't have any of our shooters on the perimeter." Donovan added the team was never considered "complete" as is, and a perimeter player may be brought in for as little as one game (if Lawson's injury requires it) or longer.
Still, the Sun led 49-42 going into the fourth quarter, but Latta explained the team was not going to let this one get away for their coach.
"We talked about this as a team, about getting this one for coach T," Latta said. "We've talked about it for a couple of days now, even in the fourth quarter, with like three minutes to go, I was like 'look, there needs to be a sense of urgency, leave it all on the floor for Coach T, we've got to get this one.' We're 2-1, great start for the organization."
Thibault knows the season is a lot longer than three or four games, and things will heat up as the playoffs near.
"It will get more competitive as the season goes on, just because it's so tough to make the playoffs in our conference," Thibault said, "but we've got Minnesota in 24 hours so we need to focus."