Dishin & Swishin 6/20/13 Podcast: Lin Dunn on the Indiana Fever, championships, injuries, the White House and more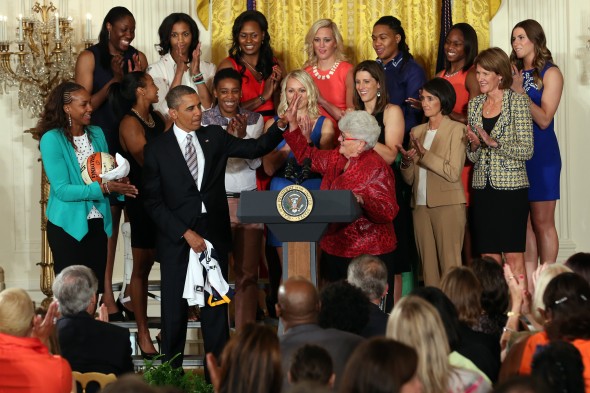 [display_podcast]
"It was the best of times, it was the worst of times."
Now before anyone gets nervous thinking about their old English literature classes, it is not Charles Dickens novels we are talking about but the 2013 Indiana Fever.
The underdog Fever won the 2012 championship, upsetting Connecticut in the conference finals and Minnesota in the WNBA finals, all without star guard Katie Douglas and backup Jeanette Pohlen. It was a victory born out of the talents of Tamika Catchings, the dedication and hustle of the other Fever players, and the brilliant coaching mind of Lin Dunn.
Dunn devised strategies, juggled roles of players, moved things around, and the Fever generally frustrated their opponents. It was a vindicating moment, the seasoned veteran and the "experienced" coach finally getting their title.
Fast forward to 2013, and things are looking a lot different for the Fever. A preseason favorite to win the Eastern Conference if not repeat their WNBA championship, the Fever have been racking up injuries instead of victories. In fact, they have more injured players on their roster (five) than they do victories (one).
Pohlen is still recovering from her torn ACL, center Jessica Davenport has a stress fracture, Erin Phillips a meniscus tear in her knee, Douglas has back problems, and rookie Layshia Clarendon has a sprained ankle. The team hopes Clarendon will be available this weekend, but the others will most likely be out until the All-Star break.
With the league salary cap and replacement rules, the Fever, who already added Erin Thorn as a replacement player, will have a difficult time maneuvering their roster any further. This puts a tremendous amount of pressure on young players that were not counted on to contribute big minutes, but are needed in order to reduce the load on starters Tamika Catchings, Briann January, Shavonte Zellous and Erlana Larkins. Those four are each playing over 30 minutes per game, way too much of a workload.
Still, there are high points as well, as the championship season continues to give the Fever their rewards, including the raising of the championship banner at the home opener, and most recently, a visit to the White House.
Coach Dunn is our guest on this week's podcast, and discusses all of these things and more. Topics include the banner raising and what it meant to her, the injuries, the causes and what if anything can be done about it (only one was an actual game injury, the others are all wear and tear injuries), how the team can handle the current stress and load of the shorthanded roster, and, of course, the visit to the White House and her unforgettable speech to President Obama ("I'm a Democrat").
A fun conversation with one of the best coaches in the WNBA today. Enjoy the podcast!