Baylor coach Mulkey given one-game postseason suspension, reprimand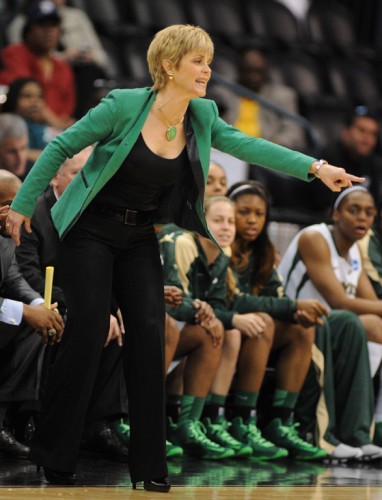 From the NCAA:
A public reprimand and penalties, including a one-game tournament suspension, have been issued for Baylor University women's basketball head coach Kim Mulkey for a violation of tournament policy during the 2013 NCAA Division I Women's Basketball Championship.
Specifically, Mulkey made disparaging comments about the officials during the postgame press conference following Baylor's regional semifinal loss to Louisville on March 31 at the Oklahoma City Regional. The NCAA Division I Women's Basketball Committee noted this is the second misconduct act by Mulkey during the past three championships and believes a more stringent penalty is appropriate to prevent these actions from continuing. She also received a public reprimand for comments to the media following the 2011 championship.
Mulkey's misconduct led the committee to issue her a one-game NCAA postseason championship suspension as well as the withholding of Baylor's team championship per diem during the regional round of play. The suspension shall apply to the next NCAA postseason opportunity that Mulkey will have as a coach, regardless of what institution she represents.
"The committee unanimously felt that the behavior of Coach Mulkey was unacceptable and has no place in the women's basketball championship," said Carolayne Henry, chair of the NCAA Division I Women's Basketball Committee and senior associate commissioner and senior woman administrator at the Mountain West Conference.