With a healthy roster for the first time this season, Mercury climbing to the top of the Western Conference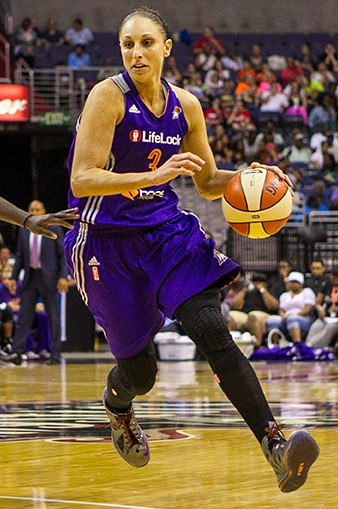 Temperature-wise, it has been a record-setting summer in Phoenix, and it is only the beginning of July.
As the calendar turned from May to June, and now on to July, the Phoenix Mercury have also climbed; from a dismal 0-3 start, the team has won seven of eight games to pull into second place, one game behind the Minnesota Lynx.
Expectations were extremely high as the season began for the Mercury, with top draft pick Brittney Griner joining Diana Taurasi, Penny Taylor and Candice Dupree, all returning from injuries, and the returning DeWanna Bonner, Charde Houston and Samantha Prahalis. Even the league's general managers picked the Mercury to win the WNBA championship in the annual WNBA.com poll.
With Taylor not playing while still recovering from last year's ACL injury, the Mercury started with three straight losses, two of them by at least twenty points. The team that in 2010 and 2011 averaged around 90 points per game when everyone was healthy, averaged less than 80 points. Rumblings about team chemistry and questions about if coach Corey Gaines' running style would work with Griner surfaced. When Griner sprained her knee and needed to sit out a game and play reduced minutes, Gaines changed the style of his team, back to that of the "old Mercury."
"We started off slow, which was my fault," said Gaines after their recent victory over the Connecticut Sun, their fourth in a row and third straight on the road. "I was trying to figure out how to play with Brittney. I never had a big player of this caliber before, so everybody took a back seat while we tried to figure out who gets the ball."
"We weren't running, we were slowing it down," he continued. "After the third game we had a team meeting, and I said forget all that we're going back to running. Shoot the ball, jack it up, let's take 25 threes; in the first three games we hit like six threes (actually thirteen). That's not us. I got a phone call from [Paul] Westhead (former Phoenix coach and Gaines' mentor), he said 'what are you doing, you're out of your style.' I said 'you're right,' so we said forget all that [stuff] and go back to playing. That's all we're doing, we haven't changed one thing except we're going back to playing the way we used to play."
While Gaines may say the team is not doing anything different, there has been one change that has been the biggest factor in the Mercury success. Prahalis, a member of the All-Rookie team last season started the first two games, playing 25.5 minutes. She came off the bench in game three and only played eleven minutes, and since then has only played more than ten minutes once, and has not played in the last four games.
In her place, Gaines has put the ball in Taurasi's hands, letting her run the offense, and she has not disappointed, racking up numbers that earned her Player of the Month for June for the Western Conference.
In the season opening losses, Taurasi averaged 16.3 points, 1.3 rebounds, and 2.3 assists, and the team averaged 77 points per game. In the games since Gaines turned things over to the veteran beginning in game four, Taurasi's numbers have improved to 26.4 points, 5.8 rebounds, and 6.3 assists, and the Mercury averaged 89 points per game.
When asked about the drastic reduction in minutes for Prahalis, Gaines explained.
"That slow start we were having, I changed Dee to the point guard, because I wanted Dee to be more aggressive and the best way to make someone more aggressive is put the ball in their hands, and she's coming close to triple-doubles, and playing great. I just have decided to stay with Dee and Buck."
Taurasi has been more than just leading the team statistically, she has grown into a team leadership role, helping young players like Griner and Briana Gilbreath feel comfortable in their roles, as well as taking the pressure off the remaining starters.
"We play well as a team," said Bonner. "That's where veteran leadership comes in; we've got enough players who have been around that if we fall behind we know to get it back at any time in the game. We just get the ball back in the scorer's hands."
The presence of players like Taurasi, Bonner and Dupree enabled the Mercury to succeed with Taylor being out until she made her debut this past weekend, and also allowed Griner to work her way into the flow slowly, averaging only 26 minutes per game.
Taurasi, herself a former top draft choice that joined the league with high expectations, is pleased with Griner's adjustment to the WNBA.
"I think she's done a great job concentrating on the things she can control," said Taurasi, "working hard, making sure she's doing the things that help us all, she's been great so far. She has some veterans, she has some people that are well established. All the pressure isn't on her, and it shouldn't be. That's why you have 11 people on a team, and they are all pretty successful in their own right. Everyone deserves to be here, and we're just trying to help her along little by little."
Taylor may have only played 13 minutes in her return to the court, but that was enough to really excite Gaines about her return.
"I know Diana's a star, don't get me wrong, but Penny, she's the rock," said Gaines. "I can depend on her, I know what I'm going to get, I know what she's going to do. Hit the three, inside, steal, rebound, post up, hit free throws, that's Penny, steady, rock."
Taylor was just as excited about getting some game action, saying it felt "really good."
"I felt confident I was ready to go and just happy to be out there" She laughed about how winded she was after her first few minute stint.
"You can practice all you want, but nothing is equivalent to being in a game. I felt good, I'm on limited minutes, that's obviously a positive thing until I get going, but I felt fine, and the team has been playing so well, that's it's nice to try to just help with the flow of a positive game for us."
The Mercury will need Taylor to give them significant minutes this month, as the Mercury schedule has seven games during the month, five with the top two Western Conference rivals, Minnesota and Los Angeles. Still, there is no denying that Taurasi is having an incredible season, playing at a caliber worthy of Most Valuable Player discussion. She appreciated it when the fact she has been much more aggressively attacking the basket than in the last couple of seasons, was mentioned to her.
"I got back in the gym [after sitting out most of last season] and tried to work on some things that were helping me in '09 and 2010. With the rule change [defensive three seconds], there's a little more room to maneuver in the lane, so that's helped too."
In a season that has seen a significant number of "wear and tear" injuries throughout the WNBA, Taurasi explained that the strength of her Russian team is a big factor in her WNBA success.
"I was on an overseas team where I didn't have to play 35 minutes," she explained. "I was on a team with Candace Parker, Sue Bird, Tweety Nolan, and some of the best Europeans at each of their positions, so I was playing 20-22 minutes. In the last eight years I've been going to Russia and playing 35 minutes per game, and that wears on you, you see it with Connecticut and with Indiana, you see it with Seattle, it's a grind. It makes a huge difference, especially when you put season on top of season. We're human, we break down physically mentally, so it's something you have to think about as you get older."
As the Mercury continue to win, Taurasi's sense of humor comes out more and more frequently. After teasing Griner that the Mercury victory over Connecticut would have been easier "if BG showed up," Taurasi was asked about her early season "issues" with the league's referees and the fact the game had 57 fouls called, leading to 24 foul shot attempts by the Sun's Tina Charles.
"I think they've been great," she said about the referees with a sly smile. "It was a great free throw-a-thon tonight. I would have donated a dollar for each free throw Tina made to the UConn Alumni fund for the new practice court if I would have known."
The Mercury hope they can laugh all the way to a championship.