Hot shooting Sun dismantle Shock, 88-69, in Connecticut's best performance of season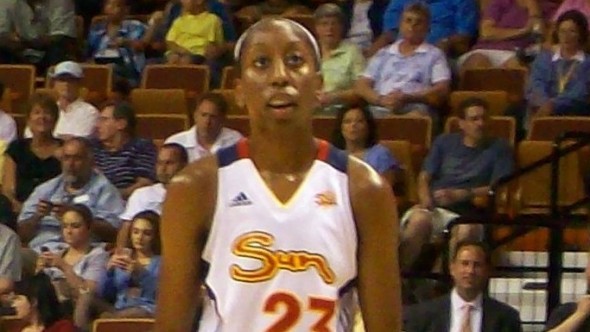 UNCASVILLE, Conn. — It took ten games into the 2013 season, but Anne Donovan finally got a glimpse of the potential she signed on for when she agreed to coach the Connecticut Sun. The Connecticut Sun shot over 50 percent from the floor as a team, including 57 percent from the three-point line in defeating the Tulsa Shock 88-69 before 5,701 fans at Mohegan Sun Arena.
It was a balanced performance by Connecticut, easily their best performance of the season, especially when you consider they are still playing without guards Kara Lawson, Renee Montgomery and Tan White. Four players scored at least fourteen points, led by Allison Hightower with 18 points on 7-for-10 shooting (3-for-5 from three). Hightower added eight assists as well.
Tina Charles contributed her eighth double-double in the ten games played, with 17 points and 13 rebounds, as the Sun outrebounded the Shock 38-35, despite the presence of 6-8 Liz Cambage and Glory Johnson, the league's third-leading rebounder.
Johnson did have 15 of her team's 35 total rebounds, including seven offensive rebounds, but struggled finishing around the basket, hitting only 4-of-15 shots. Tulsa as a team only shot 34 percent.
Skylar Diggins, in her first game in Connecticut since the Notre Dame-Connecticut rivalry games was greeted with a mix of cheers and boos in the arena, but continued her offensive struggles, hitting only 1-of-8 shot attempts.
This game was about efficiency and execution by the Sun though. Kalana Greene, who has been playing outstanding all-around basketball of late contributed 14 points on a perfect 5-for-5 from the floor, while Iziane Castro Marques showed a glimpse of the Izi that was a key contributor for the Atlanta Dream in years past, scoring a season high 15 points on 5-for-10 shooting, including 2-for-3 from behind the arc.
Sydney Carter, on the roster as an injury replacement player continued to make things difficult for the Sun management to decide how to handle her situation when the injured players return, distributing a team season-high eight assists while only committing one turnover. She also got her teammates on their feet with an outstanding block of a Diggins three-point attempt.
While none of them played more than 16 minutes, the power forward combination of Kelsey Griffin, Mistie Bass, and newcomer Kayla Pedersen gave Donovan outstanding production alongside Charles in the paint, combining for 14 points and 12 rebounds, along with three blocks.
A young team with a few veterans mixed in, the Shock seem to struggle for one or two quarters per game, and in the 2013 WNBA season, that is costing them, as they fell to 3-11. They played the Sun even in the first and third quarters, but the Sun outscored them by seven in the second quarter, and ten in the fourth quarter. Riquna Williams was the bright spot, scoring 23 points in 26 minutes as she continues her best impression of Vinny Johnson, nicknamed "The Microwave" for how fast he could heat up in his NBA days with Detroit.
The barbecue will taste a little better for the Sun this Fourth of July, as they prepare to head to Indiana for what could be a crucial game for two teams trying to get back into the playoff race in the Eastern Conference.