Dishin & Swishin 7/04/13 Podcast: Dawn Staley on giving back, USA basketball and more; Kara Lawson on the Staley Community Leadership award
[display_podcast]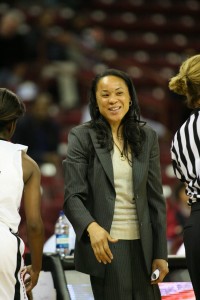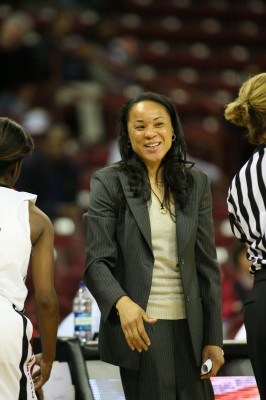 Is there a bigger icon in USA women's basketball history than Dawn Staley? She is a three-time Olympic gold medalist, opening ceremonies flag bearer, and come this September, a member of the Naismith Hall of Fame.
Staley, the head coach at South Carolina was in Connecticut this week to present Sun guard Kara Lawson the Dawn Staley Leadership Assist award, for her work in raising funds for Alzheimer's research in honor of her former coach Pat Summitt. Along with a few other members of the media, I was able to talk to Staley, and that conversation is the basis for today's podcast. Thank you to Marc Allard, Mike DiMauro, and Mel Greenberg for the use of their voices and questions in the podcast.
In the conversation, Staley discusses why Lawson is a worthy recipient of the award, her own charitable endeavors and Innersole, a new organization she supports that gives sneakers to children that need them. Other topics include her love of USA Basketball, her willingness to coach the senior women's basketball team, her election into the Hall of Fame and the recent inclusion of her peers Cynthia Cooper, Teresa Edwards and Katrina McClain. She also discusses playing for Anne Donovan on the now-defunct Charlotte Sting and their incredible run to the WNBA Finals from a 0-10 start, the conference carousel, and her initial thoughts on Val Ackerman's NCAA White Paper advocating changes to women's college basketball.
As a bonus, after the Sun victory over the Tulsa Shock, I talked to Kara Lawson about winning the Staley Community Leadership award, her friendship with Staley, and why giving back is so important to her.
"Kara Lawson has represented the WNBA admirably and has done a phenomenal job in elevating its name over the course of her career," said WNBA President Laurel J. Richie. "As evidenced by her efforts on behalf of the Pat Summitt Foundation, Kara is an ambassador and leader for all levels of basketball as well as a role model to girls and women everywhere."
So on this Independence Day, we celebrate an American icon in Dawn Staley, and we discuss giving back to those that need our help, a great way to celebrate the meaning of the day!
Enjoy the podcast!