Dishin & Swishin 9/12/13 Podcast: Disappointed but a lot to be optimistic about for Gary Kloppenburg and Tulsa
[display_podcast]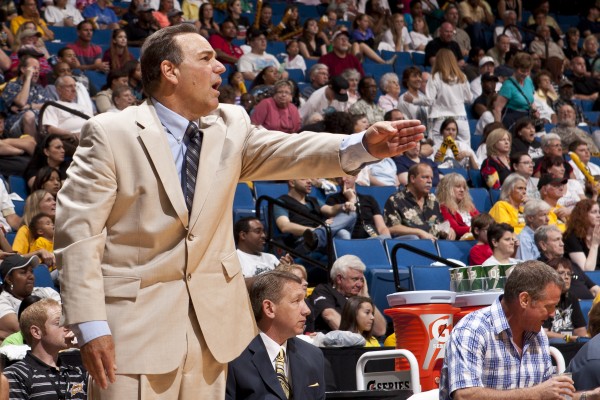 Hopes were high heading into the season for the Tulsa Shock. Authorities like the esteemed Dishin & Swishin preseason roundtable panel of Debbie Antonelli, Mechelle Voepel, Cindy Brunson and Christy Winters-Scott picked the Shock as a playoff team this year.
It has not worked out that way though. Injuries, inexperience, and the melding of players held the Shock back, and despite being an improved team, they are missing the playoffs again this year.
Certainly there are negatives that can be pointed too easily. Team defense has been porous at times. Turnovers have been costly. They have been outrebounded in games.
However, today's guest, head coach Gary Kloppenburg has a lot to be optimistic about as the season ends as well.
The team is extremely young; five of the eleven players on the roster are from the 2011, 2012 or 2013 drafts. Each of them, Liz Cambage, Glory Johnson, Riquna Williams, Skylar Diggins and Angel Goodrich are important pieces to the 2013 team, and the experience is vital to their growth. In fact only Nicole Powell and Jennifer Lacy have more than five years in the league.
There have been moments of exceptional individual performances. Prior to this season no one in Tulsa Shock history had been a WNBA player of the week. This year, Cambage (twice), Johnson, and Williams have all won the honor. Johnson was selected a WNBA All-Star for the first time, and Williams' 51-point explosion Sunday vs. San Antonio is now the league's all-time single game record.
The team has shown how well they can play when healthy. Highlights include wins over playoff teams Minnesota and Seattle on the road plus Atlanta, Chicago and Los Angeles in Tulsa. In fact, the Shock beat Seattle three times this season.
Cambage, Johnson, and Diggins were all lottery picks, and if there is one "positive" to be taken from missing the playoffs, it means the Shock will add another talented player in a very strong draft this year.
On today's podcast Kloppenburg discusses the positives and negatives about the season. He does not hesitate to discuss the shortcomings and improvement areas of players like Diggins and Johnson, while also discussing the high expectations on the duo. Kloppenburg is not shy about talking about defensive shortcomings and the improvements he has seen over the course of the season.
It is an open and interesting interview, with a coach that knew he was expected to lead the Shock into the playoffs and now has to face the reality of not achieving that goal, while looking ahead to the high ceiling for many of his players.
One thing is for certain, in watching the Shock; Kloppenburg has the team playing some of the most exciting and enjoyable to watch basketball in the WNBA.
Enjoy the podcast!