Short-handed but determined Sun stun Dream on lob to Mistie Bass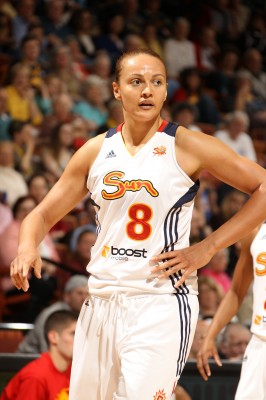 UNCASVILLE, Conn. – With only eight players available and three stars and their number one draft choice in street clothes, a gritty and determined Connecticut Sun team defeated the Atlanta Dream on an improbable lob pass from Kalana Greene to Mistie Bass in the closing seconds, 78-77.
"She (Bass) is the consummate professional; she always keeps herself in great shape, she knows what her role is and rarely does she step outside that role," said Sun coach Anne Donovan postgame.
Bass was a perfect 6-for-6 from the floor, including the alley-oop conversion of an exceptional pass by Greene.
With the shortage of players available, the Sun have faded in the fourth quarter recently, but Renee Montgomery helped keep the Sun close with 14 second-half points and seven assists.
The Dream's size was a big factor throughout the game, with the Dream outrebounding the Sun 37-27, and outscoring the Sun in the paint 46-40. However the Dream really struggled protecting the ball, committing 25 turnovers, with four players committing at least five.
Angel McCoughtry, who has averaged 30 points per game versus the Sun this season, only scored 23 ("still too many" according to Donovan), but she also had 10 rebounds and seven assists.
The loss drops the Dream's record to 17-15, keeping them in second place in the East in a race with two games to go. The Sun (9-23) remains at the bottom of the league with no postseason hopes but are playing it out with heart and emotion as they look to the future.
WNBA Standings as of September 12, 2013
EAST CONFERENCE

W
L
PCT
GB
CONF
HOME
ROAD
L 10
STREAK
CHICAGO1 E
23
9
0.719
0.0
16-5
13-3
10-6
8-2
W 2
ATLANTA2 X
17
15
0.531
6.0
12-9
13-4
4-11
4-6
L 2
INDIANA3 X
15
17
0.469
8.0
10-10
8-8
7-9
4-6
L 1
WASHINGTON4 X
15
17
0.469
8.0
8-12
8-7
7-10
6-4
W 1
NEW YORK5 O
11
21
0.344
12.0
8-12
6-11
5-10
2-8
L 5
CONNECTICUT6 O
9
23
0.281
14.0
7-13
7-9
2-14
2-8
W 1


WEST CONFERENCE

W
L
PCT
GB
CONF
HOME
ROAD
L 10
STREAK
MINNESOTA1 W
25
7
0.781
0.0
18-3
14-2
11-5
8-2
W 7
LOS ANGELES2 X
22
10
0.688
3.0
12-8
13-2
9-8
7-3
W 1
PHOENIX3 X
18
14
0.563
7.0
8-12
9-7
9-7
7-3
L 1
SEATTLE4 X
15
17
0.469
10.0
9-11
8-8
7-9
5-5
L 3
TULSA5 O
11
21
0.344
14.0
7-13
7-9
4-12
4-6
W 1
SAN ANTONIO6 O
11
21
0.344
14.0
7-14
7-9
4-12
3-7
L 3
x-Clinched Playoffs Berth | e-Clinched Eastern Conference | w-Clinched Western Conference | o-Eliminated from Playoffs contention