Dishin & Swishin 10/10/13 Podcast: On the verge of a second WNBA title, we revisit chats with Lynx stars Seimone Augustus and Maya Moore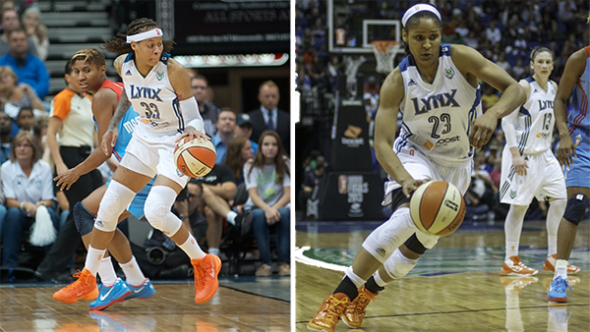 [display_podcast]
The Minnesota Lynx will attempt to wrap up their second WNBA title in three years tonight. Having dominated the Atlanta Dream in the first two games, many expect the Lynx to end the series.
They have been dominating, outscoring Minnesota by a combined total of 172-122 and outrebounding the Dream 84-57. It has been an impressive performance of team basketball by a group of players and coaches that all season felt they had "lost their title" in 2012 (Indiana defeated them in the finals), and have had a singular mindset: win it back.
No one can downplay the contributions of Lindsay Whalen, Rebekkah Brunson, and center Janel McCarville to the Lynx' success, but it has been Seimone Augustus and Maya Moore that have been the stars shining the brightest in this series.
It will be difficult to determine who is the Most Valuable Player for the finals, with numbers like these:
Augustus: 19.5 points per game, 4.5 rebounds per game, 2.5 assists per game
Moore: 18.5 points per game, 7.5 rebounds per game, 3 assists per game
In addition they have virtually shut down the league's leading scorer, Angel McCoughtry, during the series, frustrating her with the physicality and aggressive defense they have played.
As a fan of the game, it has been a pleasure watching the Lynx play their brand of team basketball all season, and their stars in particular, giving the effort at all times coach Cheryl Reeve requires of everyone.
So in today's podcast we give you two interviews from earlier this season: Seimone Augustus from June 27, and Maya Moore from September 5. In the interviews you can hear the dedication, the drive, and the motivation for championship success.
Enjoy the podcast!