Dishin & Swishin 11/21/13 Podcast: Year two for Holly Warlick and the Lady Vols filled with anticipation and excitement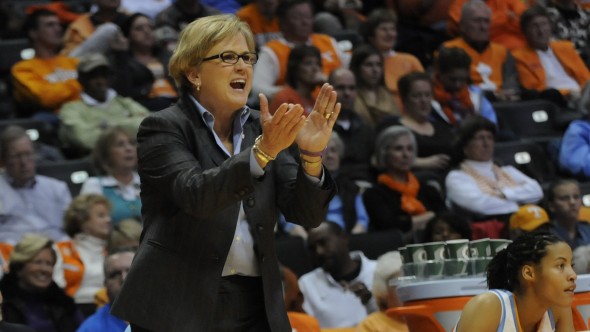 [display_podcast]
What a difference a year makes!
When Holly Warlick, the head coach at Tennessee, was last on Dishin & Swishin, she was entering her first year as the official head coach: the team was struggling with the end of legendary coach Pat Summitt's tenure and illness revelation and the Lady Vols had their lowest preseason ranking in years.
As Warlick returns to the podcast this week, things are a lot brighter in Knoxville! The Lady Vols are clearly a top five team nationally, consensus favorite to win their conference and are a talented and dynamic team with eyes set on a Final Four appearance in nearby Nashville.
Sitting at 4-0, with victories over North Carolina and Georgia Tech in their early resume, Warlick's team is averaging over 78 points per game, while using their trademark defensive intensity to hold opponents to only 63.
The only senior, Meighan Simmons received the bulk of the preseason accolades, but while she had struggled a bit early, backcourt mate Ariel Massengale has built on her summer success with USA Basketball and is leading the team in scoring, assists and steals. Massengale received the NCAA's player of the week honor in recognition of her performances last week.
As good as the guards are, the frontcourt is what makes this edition of the Lady Vols special. Six of the ten players on the roster stand 6-2 or taller.
Junior Isabelle Harrison was named by ESPN in their preseason preview as one of the five best centers in the country. Junior forward Cierra Burdick is second on the team in minutes played and has only one rebound less than Harrison this season. Reigning high school player of the year Mercedes Russell, at 6-6, has the skills to play with both her back to the basket or facing it.
Perhaps the most important post, however, is sophomore Bashaara Graves. A complementary player who does just about everything well, Graves can do whatever is needed for the team to succeed, but also can take over a game, as she did versus Georgia Tech in scoring 23 points and pulling down 18 rebounds.
With only ten players on the roster, health will be important for the Lady Vols, but through the first few games nine of the ten are averaging at least 13 minutes per game, so all are getting important playing time and opportunities.
Off the court, it has already been a great year for the Lady Vols, with legendary Tamika Catchings being elected into the Lady Vols Hall of Fame and this Friday's dedication of Pat Summitt Plaza.
On the court, out of conference games with Stanford and Notre Dame, plus the difficult SEC schedule await the Lady Vols, but Holly Warlick and the Lady Vols are clearly a force to be reckoned with, and a legitimate favorite to reach the Final Four in their home state.
Enjoy the podcast!