Stefanie Dolson earns place in Husky history in Connecticut's 114-68 victory over Oregon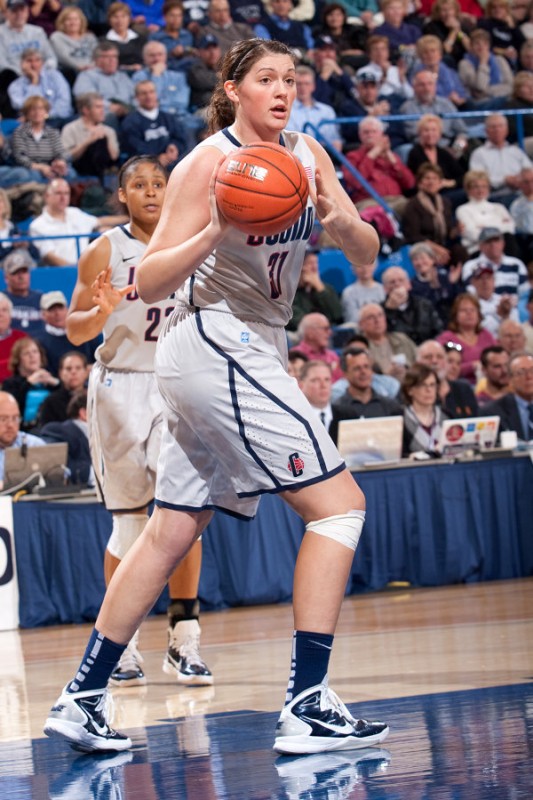 HARTFORD, Conn. – "He (Oregon coach Paul Westhead) has coached a lot better players than I'll ever coach in his career, both in the NBA and men's college basketball, and certainly in the WNBA," UConn coach Geno Auriemma said following his Huskies' 114-68 victory over Westhead's Oregon Ducks. "He's coached some great players. So he's out there, he's got a different way of seeing things and a different mindset and he's not afraid to be different, and certainly they're different."
Westhead's Oregon squad tries to outshoot and outscore their opponents, launching three-point shots at will, trying to exchange three points for two when possible. It has been successful for him in the past, but his Loyola-Marymount and Phoenix Mercury teams have featured players like Hank Gathers, Bo Kimble, Diana Taurasi and Cappie Pondexter. This year's Oregon squad, while having some talented young players, is not in that class, and UConn dominated from start to finish.
Instead of simply trying to outrun and outgun Oregon, Auriemma's team pounded the ball into the paint, where All-Americans Stefanie Dolson and Breanna Stewart, as well as emerging post Kiah Stokes were in control. Stewart led the Huskies in scoring with 28 points and eight rebounds; Stokes contributed a double-double with 12 points and 13 rebounds along with six blocks.
The night belonged to Dolson, however, as the senior became the second player in UConn history to rack up a triple-double, scoring 26 points, pulling down 14 rebounds, and dishing out 11 assists. She did all of this while only committing one turnover.
While Auriemma said he tends to leave his seniors in the game longer than other starters, he admitted to finding out Dolson was close to the elusive triple-double down the stretch.
"It was brought to my attention the last time that was done Laura Lishness, the pride of Bristol, Connecticut," he said. "It was a long time ago. It's something; you've got to be a pretty good all around player to accomplish something like that. Stefanie hasn't had a chance to handle the ball much these last couple of games because of the way defenses are playing against her, but I felt tonight she was fabulous, she did all of the things [you expect from] the All-American she is. I'm really happy for her."
Those last few games Auriemma referenced were victories over ranked opponents Stanford, Maryland and Penn State. Oregon was not that type of competition, but presented different problems with their style of play.
"Every game we've had this past week has been a different kind of test for us," Dolson commented. "Tonight was no exception. Oregon came out running, really fast, and we knew they would. It was tough but I think we did a great job getting back on defense and staying in pace with them."
Oregon was led by freshman guard Chrishae Rowe with 27 points (on 27 shots), and sophomore forward Jillian Alleyne with 15 points and nine rebounds. Alleyne had the difficult task of trying to deal with the Huskies' three posts, and she did not get much help. UConn outrebounded Oregon 56 to 34 and blocked 12 shots. In addition, Stewart, Dolson, and Stokes combined to commit two turnovers the entire game.
When Dolson entered UConn as a freshman, she was not in the kind of physical condition necessary to take on the pace of Oregon for 31 minutes on a Huskies team with nine available players.
With a big smile on her face, Dolson commented, "There were a few times their team was yelling "Stef's tired," and I'm like "I know I'm tired, but you don't have to tell your teammates. Damn."