Dishin & Swishin 1/02/14 Podcast: Dave Magarity has Army playing inspired ball, while Curt Miller brings undefeated Indiana into Big Ten play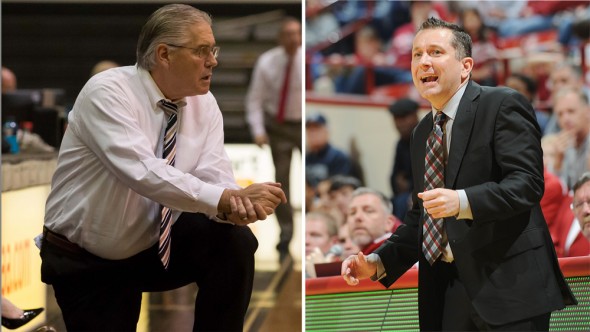 [display_podcast]
Happy 2014 everyone! Thank you for following the @DishNSwish Twitter feed and listening to the Dishin & Swishin podcasts throughout 2013! It was a fun year full of too many highlights to mention, but it is time to begin creating new memories!
This week we have two great coaches on the podcast. Both have teams that are playing at a high level heading into conference play.
First, Dave Magarity, the head coach at West Point returns to the podcast after a few years absence. Coach Magarity has the Army Black Knights kicking off Patriot League play today against Lafayette, with a respectable out of conference 8-3 record.
However, it is not the victories, but the last two losses that have caught people's eyes. The Black Knights lost at Penn (who defeated Miami this weekend) by only ten, and then lost a controversial finish at Ohio State by three points. Many feel that there were some refereeing decisions that affected that finish with Ohio State, and that the outcome could have been (or should have been) different.
Magarity discusses that game on the podcast and the rest of the out-of-conference schedule, plus gives insight into a very strong Patriot League this year. Every team in the conference enters conference play with a better than .500 record! His team has a great mix of young and old, and is led by a special talent in guard Kelsey Minato (a guest of Dishin & Swishin last season), who last year was both rookie and player of the year in the Patriot League. She is averaging over 19 points per game (including 27 against Ohio State), and comes from a family with deep-rooted military experience.
Playing basketball at West Point is not for the weak of mind or body, and Magarity explains on the podcast some of what goes into being a Cadet and a Division I athlete. It is different for Magarity when his student-athletes leave as well, and he discusses keeping in touch with them, and how difficult and important that can be.
Magarity was brought to West Point as an assistant coach after a storied career in the men's game by Maggie Dixon. He was going to leave, but was talked into staying by the players and administration after her tragic passing, and took over her team. Accordingly, the Maggie Dixon classic is still very important to him, and part of the podcast includes discussion of the exclusion of Army from the event over the last several years. It is interesting to hear how the team turned down one year due to scheduling conflicts and the lack of subsequent invitations.
The second guest this week has the Indiana Hoosiers entering tonight's Big Ten tipoff against Iowa with an unexpected, undefeated 13-0 record. Curt Miller is in his second year as Indiana head coach after great success at Bowling Green. The hiring of Miller was a commitment to the growth and development of women's basketball at Indiana, and he has produced immediately.
The 13-0 start is the best in the history of the program, and the 6-0 record in "true" road games this season, is the program's most road wins in a single season since the 2008-09 campaign. They are doing this with mostly players new to the program, including four starters.
Power forward Tabitha Gerardot is a senior transfer that graduated in three years from Valparaiso. She speaks five languages and wanted to begin her advanced degree at Indiana, and due to NCAA rules was allowed to transfer in without sitting out a year and be an immediate impact player. She has scored in double figures nine of the 13 games, averaging 11.3 points per game and leads the team in rebounding as well
However it is the freshman backcourt that is the real story of the Hoosiers' success. It begins with point guard Larryn Brooks, who has been nothing short of extraordinary. While other freshman may be getting more headlines, coming into the week, she ranked second among freshmen nationally in total points scored (243 points) and third among all freshmen in the country in points per game (18.7 points per game). In the ACC/Big 10 challenge, Brooks lit up Virginia Tech for 37 points. Her running mate is Taylor Agler (daughter of Seattle Storm coach Brian Agler), who early on has personified what the expression "coach's daughter" means in basketball. She does a little bit of everything, leading the team in steals, averaging 7.2 points per game, and perhaps most importantly protecting the ball. In eight of the 13 games, Agler has one turnover or less.
Miller had success at Bowling Green with inexperienced teams, so coaching a freshmen-laden team is nothing new to him. On the podcast he discusses the growth of the Indiana program since taking over last year, including the fan and institutional support. He talks about the depth of his team, and how important that will be considering the depth of the Big Ten this season. Miller mentions the opening conference schedule of Iowa, Purdue and Ohio State as a great test for his team, and the fact the Big 10 top to bottom may be the deepest conference in the country (no dominant or very poor team).
A former member of the rules committee, Miller also spends a few minutes discussing the rule changes and points of emphasis for 2013-14, and the impact he feels it has in the game, and also talks about the men versus women as coaches debate (Miller and Ohio State's Kevin McGuff are the only male coaches in the Big Ten).
A great way to kick off a new year of podcasts! Two great coaches in different circumstances. Dave Magarity coaching student-athletes that will go on to deployments throughout the world, protecting the United States. Curt Miller knows the challenges a mid-major like Army faces, having coached at Bowling Green successfully, but he is charged with bringing success and a Big Ten conference championship to an Indiana program that has struggled. Miller is competing for the "BCS level" talents now, and it is difficult to get national acclaim while building.
Enjoy the podcast, and best wishes for a happy, healthy and prosperous New Year!