Five Huskies score in double figures as No. 1 Connecticut dominates SMU, 102-41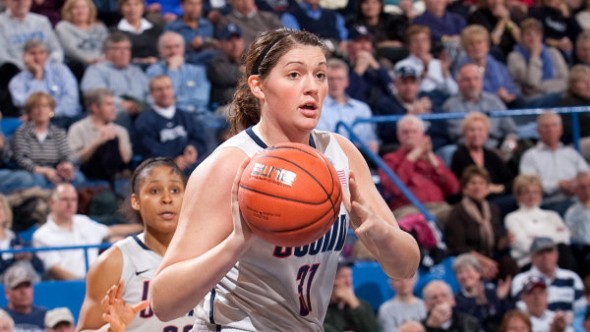 STORRS, Conn. – In the first-ever meeting between American Athletic Conference mates, No. 1 Connecticut and Southern Methodist, the Mustangs scored 19 points in the first half. The problem for SMU was that UConn scored 19 points in the first six minutes of the game, on their way to a 54-19 halftime lead, eventually coasting to a 102-41 point victory.
UConn had one of their most complete all-around games of the season, shooting 59.7 percent from the floor, 60 percent from three-point range, and 90.9 percent from the foul line, while holding SMU to 20 percent shooting for the game.
The entire starting five for UConn scored in double figures, led by Bria Hartley with 21 points on 8-for-10 shooting, and Breanna Stewart with 20 on 8-for-14 shooting. Moriah Jefferson added 14 points and five assists, plus five rebounds. However it was the stat lines of Kaleena Mosqueda-Lewis and Stefanie Dolson that were the most impressive, with both scoring 16 points and pulling down 11 rebounds, while Mosqueda-Lewis added seven assist and Dolson five assists.
UConn coach Geno Auriemma was full of praise for both Dolson and Mosqueda-Lews.
"There are so many things that Stefanie does you can't put in a box score," said Auriemma about the senior center. "You can't measure what she means to our team and how much the players count on her for so many things. She scores, rebounds, assists, and blocks; it doesn't matter."
After a slow recovery from an elbow injury, Auriemma is happy with Mosqueda-Lewis' recent improvement.
"There is a bit of a different look about her," he said. "She came back from the Temple game (January 28) and her practices since then have been really, really good. Today was an indication of how well she looked in practice."
While UConn assisted on 31 of 40 baskets, having players that finish around the basket was a clear difference maker. SMU senior guard Keena Mays, one of the leading scorers in the AAC, had several outstanding passes that were either fumbled, dropped, or the shots just missed. Mays scored 20 points, but it took her 24 shots to get there and she only had two assists. UConn's post trio of Dolson, Stewart and Kiah Stokes shot a combined 17-for-30.
It was not all good news for UConn however. UConn hosts top five companion, No. 4 Louisville on Sunday, and it looks like it will do so with only seven scholarship players able to contribute, as post-game Auriemma mentioned that backup guard Brianna Banks, who did not dress with a recurrence of her bothersome ankle injury, may be out longer.
"It is not looking good," he said, "it is the fifth time she has done that this year. Hopefully it will get better soon."