It's official: Magic Johnson and Dodgers chairman Mark Walter purchase the Los Angeles Sparks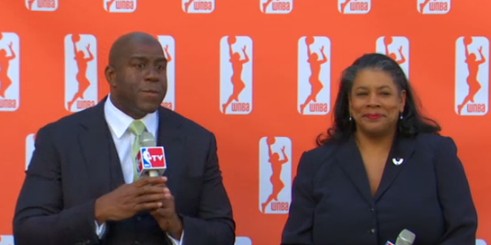 Press Conference Social Media Recap || Laurel Richie's letter to fan || Video of press conference
The WNBA and NBA Board of Governors have unanimously approved the purchase of the Los Angeles Sparks by an investment group led by Earvin "Magic" Johnson and controlling owner of the Los Angeles Dodgers, Mark R. Walter, WNBA president Laurel J. Richie announced today. The investment group also includes Dodger co-owners Todd L. Boehly, Robert L. Patton and Stan Kasten. The franchise will remain in Los Angeles and play at Staples Center. The WNBA's 2014 game and television schedule will also be announced this week. Richie, Johnson and the team's last head coach, Carol Ross, attended a press conference at the Staples Center.
"We are thrilled to welcome Magic Johnson and Mark Walter to the WNBA," said Richie. "With their proven track record in the business realm, their commitment to the city of Los Angeles through civic engagement, and their passion for the game of basketball, we look forward to partnering with our new owners to usher in a new era for this iconic team. This is a great day for Los Angeles, the Sparks franchise, its players, and of course, the loyal fans who have been so supportive of the team for 17 seasons."
"This is a great day for the city of Los Angeles and the Sparks," said Johnson. "The leaders of this great city came together quickly to keep this franchise right where it belongs – in the city of Angels. Thanks to my sister, Evelyn, playing college basketball, I have a great appreciation of the talented players that represent the WNBA. Our group will now work together to bring our loyal fans another WNBA championship."
"Earvin came to me and said we need to help save the Sparks and keep them in Los Angeles," Walter said. "The decision was quite easy for our investment group due to the passion Magic has for this city, these great athletes and our wonderful fans. This team and its great players should remain a part of the sports fabric of this phenomenal city."
One of the league's original eight teams, Los Angeles won the WNBA championship in 2001 and 2002, and is the last team to have earned titles in consecutive seasons. Los Angeles advanced to the Western Conference Finals in three of the past six seasons, most recently in 2012. A trio of WNBA All-Stars – forward/center Candace Parker, forward Nneka Ogwumike, and guard Kristi Toliver – headline a talented roster. The reigning WNBA Most Valuable Player, Parker also earned the honor during her rookie season in 2008. Ogwumike took home the WNBA Rookie of the Year award in 2012, the same year Toliver earned the WNBA Most Improved Player award.