Connecticut wins first American Athletic Conference championship, defeats Louisville 72-52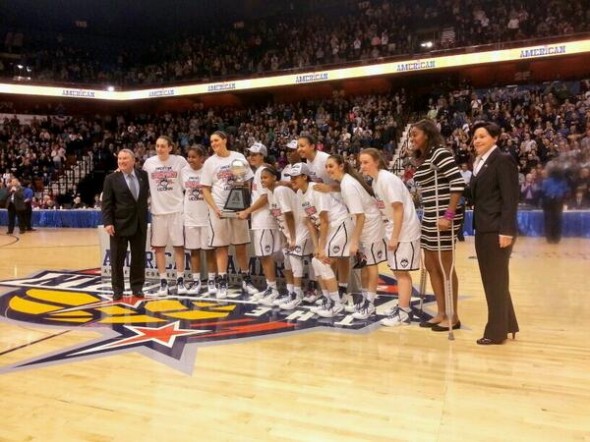 UNCASVILLE, Conn. – Top-ranked Connecticut joined Notre Dame as an undefeated conference champion entering the NCAA tournament, defeating Louisville 72-52 in the final game of the American Athletic Conference women's basketball tournament.
Geno Auriemma's Huskies defeated the Cardinals by double-figures for the third time this season, having beaten them twice in regular season conference play.
"It's not so much the trophies, and the watches, the hats, the shirts, those are meaningless in some ways," commented Auriemma about winning the tournament. "The significance of all this is you have a goal when you start October 15th; our goal is to win the conference championship. Then the whole process is about that. So when you actually do it, it reinforces that our process is right, we're doing it the right way."
UConn opened the game with back-to-back three-pointers by Breanna Stewart and Bria Hartley, followed by a Kaleena Mosqueda-Lewis layup and it was 8-0 less than two minutes into the game.
Louisville did cut the lead to eight late in the first half, but Stewart led a run that opened up an 18-point halftime lead, 40-22.
"We did some good things," said Louisville coach Jeff Walz, "but at the same time we didn't do enough of them."
The tournament's most outstanding player, Stewart, led UConn with 20 points and nine rebounds.
"When you're 6-4, can handle the basketball and shoot the three, it's tough to guard," said Walz of Stewart. "She made a few shots that were big time shots."
Stefanie Dolson contributed 10 points and a season-high 16 rebounds, Bria Hartley had 16 points and six assists, while Kaleena Mosqueda-Lewis added 13 points. All three were named to the All-Tournament team.
Shoni Schimmel led Louisville with 20 points, but UConn's defense allowed that on 25 shot attempts. Schimmel was also an All-Tournament selection, as was South Florida guard Courtney Williams.
Both teams await selection Monday for the site of their next game, a contest in the NCAA tournament. There is a good chance that there will be a fourth matchup in the future, with Louisville hosting the closest regional final to Connecticut, the number one team in the country.