Proud to be the American: Danielle Donehew on the first year of the new conference and this weekend's inaugural tournament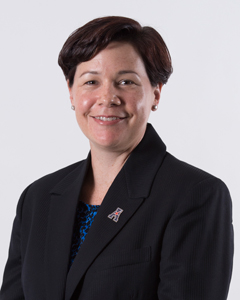 Earlier this year, I discussed covering Connecticut's women's basketball team, the American Athletic Conference and
how league play seemed different this year
.
The blowouts continue to have same margins, but the lack of old familiarities and history took away from the individual games in the season. As the American's first conference tournament comes closer, how could these thoughts be changed?
Who better to eliminate those feelings than Danielle Donehew, the woman with the perpetual smile on her face while she attends conference play? She is the associate commissioner of women's basketball for the American. Donehew had a similar role and responsibilities in the Big East before the formation of the American. The 2013 Atlantic Coast Conference Legend selection has been around enough through her days working for Pat Summitt at Tennessee and in the WNBA with the Atlanta Dream to know what she is looking at in a first year organization. While Donehew confessed to some teams being better prepared than others this season, she is impressed with what she has seen.
"I'm very pleased with what we've seen in this first year of conference play," she explained. "We've seen some teams that came out of the gate very strongly, we've seen some other teams who have certainly battled game to game. It's been excellent basketball."
Donehew knows that building a conference like the former Big East involves commitments on many levels that she has seen thus far.
"I've been very impressed with the coaches, the quality of play. I've been very impressed with a number of our facilities; we have a lot to offer student-athletes in this league, and I'm excited about what we're building. I think the vision has been strong and our coaches and their teams are certainly giving their best effort. I've been very pleased with the commitment from our athletic directors, our administrators, our coaches, and our players across all of our campuses."
Still, the American (don't dare call it the AAC in front of Donehew, it's "the American"), will be losing Rutgers and Louisville next season, two of the better teams in the conference this season for women's basketball. But, Donehew sought to answer any questions of commitment to the women's game.
"Women's basketball is an important asset to this conference," she said smiling, "and you could see that with the field support, with the quality of play, with the arenas that many of these teams play in. You can see it with their commitment to our American Digital Network, which we launched this year with 30 games on that platform. I'm very pleased with the commitment, not only on the basketball court but also from the supportive nature to try to build something special."
Year one will culminate this weekend with the conference tournament at Mohegan Sun Arena (Uncasville, Conn.), home of the WNBA's Connecticut Sun. In addition to a professional level arena, the casino, shopping and restaurants are sure to be a hit among the fans attending.
"As a conference family we're excited about being at Mohegan Sun Arena for our championship. We look forward to having not only some really competitive ball games, we've got two teams right now than in the national top five, but we also have some teams that have historical postseason experience, a lot of coaches that have gone very deep into the postseason.To have the event at Mohegan Sun Arena; the administration at Mohegan Sun has been very supportive of our event and is excited to have us there. Our fans will get to see there's a lot more to do there than just watch basketball. It should be a great environment for tournament."
No discussion on the season, regardless of conference, would be complete without mentioning the "points of emphasis" and rule changes this season, and their enforcement. Donehew thinks we're off to a good start, but there is still room from improvement.
"There's a large commitment across the nation regarding the officiating in the way that our officials have been instructed from the national coordinator all the way down to our conference coordinator. We want consistency on the floor, we want an effort to call the rules as written, we want to increase freedom of movement, we want to protect ballhandlers and shooters, we want to make sure to open the game so it's an exciting game for the fans and for the student-athletes, and we want to reduce physicality so those players that are at the top of our game get to shine. We still have more rules to review, there's more to evolve, but I could tell from the perspective of what's happened over the last 12 months as a collective body in women's basketball, we're pleased with what we see."